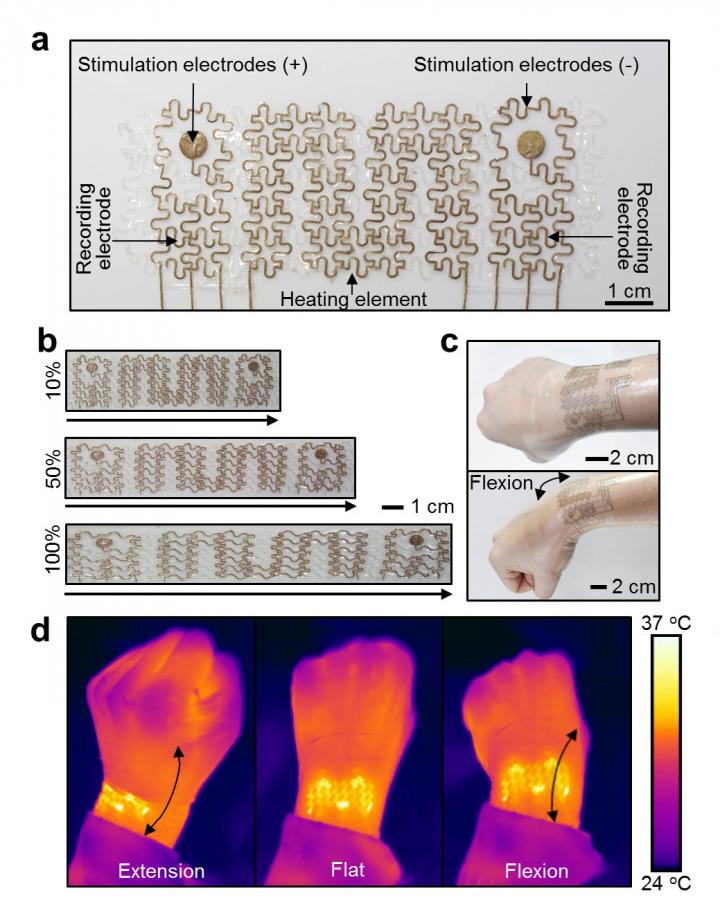 A new wearable device capable of recording the electrical activity of the heart and muscles, as well as delivering therapeutic electrical and thermal stimulations. It is suitable for flexible joints, like the wrist, and allows reliable heat transfer even when the wrist is flexed or extended. (Source: IBS)
Researchers at the Institute for Basic Science's (IBS) Center for Nanoparticle Research have released a breakthrough in wearable technologies and bioelectronics. IBS researchers have created a wearable device for the heart and an implanted device that can track and measure a patient's electrophysiological signals. The implantable device is the first of its kind. This mesh device is basically a robot for the heart and had already been tested on a pig heart.
These devices are huge developments in measuring patient health. The wearable could be useful for prosthesis control, rehabilitation and pain relief. The soft, elastic and stretchable device provides doctors with deep information about cardiac and muscle dysfunctions. Because of the easy movement of the device, it can work in all areas of the body, even curved areas. The wearable device was tested on human skin to record electrocardiogram, which monitors heart activity, and electromyogram, which monitors muscle activity.
The mesh wearable fits over the lower part of the heart and closely monitors heart activity. It alerts doctors and patients of heart events, like acute heart attack, without interfering with heart activity. It is made of gold-coated silver nanowires mixed with polystyrene-butadiene-styrene (SBS).
"Although various soft cardiac devices have been reported for the rat heart. This study on pigs can approximate human physiology more accurately," says Choi Suji, first co-author of the study. "We aim to study heart diseases, and stimulate the heart more effectively by synchronizing cardiac pumping activity."
"We took advantage of silver's high conductivity, SBS' stretchability, and gold's high biocompatibility," explains Hyeon Taeghwan, director of the center and corresponding co-author. "Finding the right proportion of each material was the key to success."
The research team plans to further test both wearable devices to eventually be used actively in hospitals and doctor's offices.
A paper on the wearable devices was published in Nature Nanotechnology.