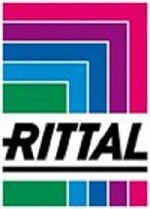 Source: Rittal North America LLC
Rittal North America LLC, the world's largest manufacturer of industrial enclosures, enclosure accessories and machinery, introduces the RiLine Compact System for power distribution in confined enclosures and small control cabinets.
The RiLine Compact System marks Rittal's entry into a new market segment for low-current power distribution. It is ideal for most small control panel applications and provides optimal use of panel space. For power demands below 100 A, the RiLine system is a safer, more cost-effective power distribution alternative to traditional wiring.
The RiLine Compact System is simple to install and quick to configure, delivering significant time and labor savings. The board simply snaps onto DIN rails without tools, or it can be screwed to the panel directly. The modular-compatible pitch pattern runs along the entire length of the board, allowing components to be attached to a variety of places within the cabinet. Adapters are available to connect to round conductors, and a variety of motor and power control modules. Each component mounts with a tool-free, snap-on connection, and maintenance-free spring clamp technology keeps electrical contacts secure.
To eliminate accidental user contact, the entire RiLine Compact System is shielded with contact hazard protection to separate the user from live parts. No conventional wiring is required. RiLine meets all global standards, including IEC and UL.