The migration of data centers from in-house to the cloud has led to a fundamental shift in how they operate. The cloud consists of large data centers that exploit the economies of scale. These giant data centers lower IT costs for their customers and yet still produce significant profits for the companies that build them. The migration is a win-win proposition and as a result, very large data centers are popping up all over the country, funded by large tech companies like Amazon, Google, Microsoft and more. Data centers have essentially become the warehouses and factories of the information age, storing, processing and distributing data.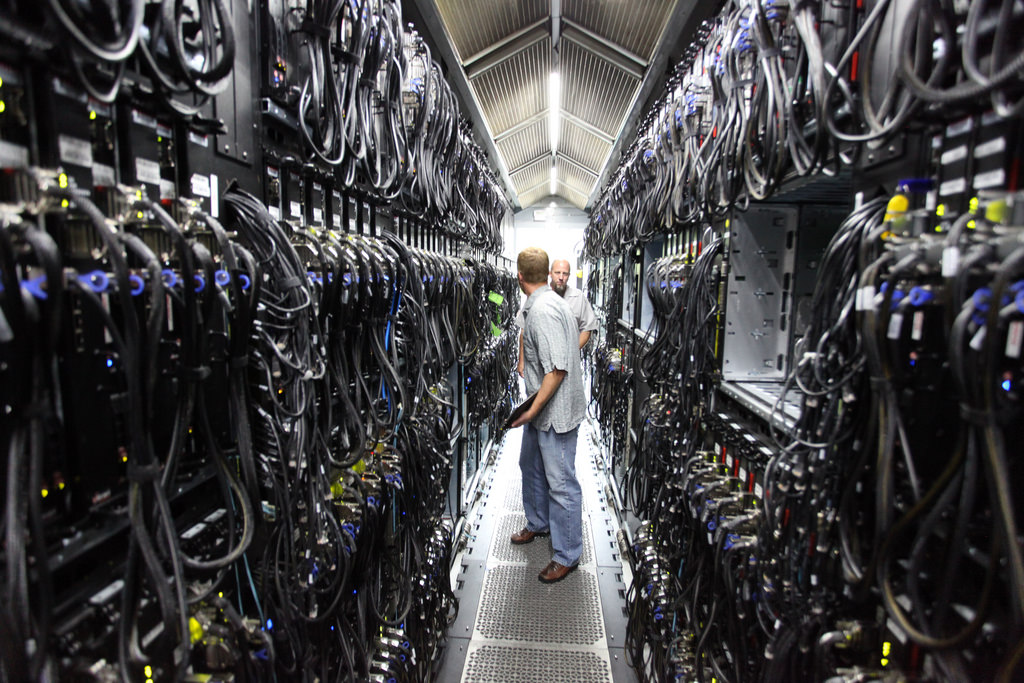 Data center used to process maps for Bing Maps. Source: Robert ScobleData center space has grown by 360 million square feet the past five years. That is especially impressive considering the overall number of data centers has decreased as in-house data centers are shut down in favor of the cloud. The large data centers behind the cloud are expensive to make and are creating a construction boom to the tune of roughly $20 billion a year worldwide. Municipalities are aggressively competing for these data centers with tax breaks and subsidized electricity.
Some of the largest data centers are a million square feet or more and can require the same amount of electricity as a small city. With subsidies and tax breaks, these data centers are attractive for cities because of the construction jobs they create and also the high paying permanent jobs available once they are built. Data centers are so large that the energy consumption of these data centers has raised some concerns among environmentalists. Currently, data centers are estimated to consume two percent of the world's electricity and produce three percent of the carbon dioxide emissions.
That much electricity consumption and CO2 pollution is not sustainable, particularly given the rapid growth rate in data centers worldwide. Fortunately, market forces are aligned with environmentalist's concerns in this industry. Most reductions in electrical costs would be beneficial to the environment and the bottom line. As a result, a number of technologies are emerging to make data centers more efficient. New approaches such as airflow management, liquid-based cooling and data center infrastructure management (DCIM) software are being implemented.
The days of just ventilating data centers with fans or ambient air are on the way out. Increasingly cloud companies are turning to complicated computational approaches to better understand airflow dynamics to efficiently dissipate heat. Coolant and air hybrid approaches are being implemented to reduce cooling costs. Data center infrastructure management software gives data center operators the ability to improve data center planning and design. Databases are constructed and analyzed during operation improve overall functionality.
Another subtle but important approach is the location of future data centers. In the early rush to meet demand, data centers were placed in areas where cheap electricity was readily available. As a consequence, many data centers were built in areas using coal-powered electricity. This is one of the reasons data centers on average have such a high carbon footprint.
To reduce costs, data centers are looking to solar power, which has more upfront cost but produces cheaper cleaner electricity. Concerns over data privacy are also driving a move away from data centers with large carbon footprints since the cheap, deregulated electricity sources behind them tend to be located in areas with a poor record in respect to data privacy. These market and political forces will result in much more environmentally friendly data centers in the future.
Mobile devices, wearable biometric devices, artificial intelligence (AI), the internet of things (IoT) and automation are all contributing to an exponential growth in data that needs to be stored, manipulated and distributed. Converting in-house data centers to the cloud or to hybrid local-cloud configurations is profitable for all involved, including the town or city where the data center is located. It's easy to see why data centers are being built at such an accelerated pace.
Eventually, the electrical demands of these data centers will begin to push electricity prices upwards. At the same time, the carbon produced by these data centers will negate some of the recent progress that has been made in slowing the acceleration of global carbon emissions. Data centers will have to become more efficient in order to remain profitable and favorable to the public. The next decade is likely to see a lot of research and development into technologies that make data centers more efficient — an interesting engineering challenge for the 21st century.