The ship for the industrial internet of things has set sail and it seems as if we have only penetrated the surface. As more and more companies realize the potential gains achieved by implementing connected devices they are embracing the idea of the smart factory. Smart factories, like ABB's new Bangalore facility that will be used to produce its entire range of electrical protection and connection solutions, are a collection of connected devices that are responsive, adaptive and brimming with artificial intelligence.
Market Outlook
According to MarketsandMarkets™ market research report, "Smart Factory Market - Global Forecast to 2022," the smart factory market is entering an era of rapid growth. Its projected the market will experience a compound annual growth rate of 9.3 percent, between 2017 and 2022 with a projected value of $205.42 billion by 2022.
Key technologies driving the trend include the wide adaptation of industrial robots along with an increased adaptation of industrial internet of things technologies. Collectively these interconnected devices monitor production processes with real-time visualization of operational data which in turn is used to increase operational efficiency and process flexibility all the while elevating their ability to remain compliant with regulations.
The Future of Manufacturing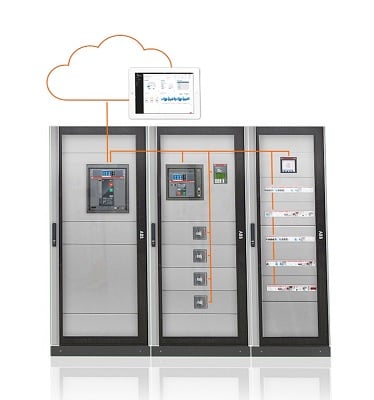 Source: ABBABB Ability™ is a collection of smart devices, advanced software, developed machine learning systems and artificial intelligence that allows users to create value from the structured data provided by its systems. The platform enables the development of a connected workplace and is backed by its cloud-based services and advanced analytics which increase the quality and precision of industrial automation processes.
Increased insight into daily operations is provided by a host of connected and/or edge devices. From low voltage motors with integrated smart sensors to ABB's connected electrical distribution control systems production processes are running smoother than ever. Its systems use vibration, temperature and vital operating performance data to reduce downtime, extend device life expectancy and decrease energy demands.
ABB Ability also allows for iterative improvements in complex manufacturing systems. Accumulation of benchmark data allows users to fine-tune industrial processes. Manufacturing execution systems are perfected with advanced tools that help design engineers plan, build, operate and maintain industrial processes with the flexibility to adopt best practices and launch new product lines.
The flexibility of its systems and deep insights in discrete industries allows ABB Ability to address the needs of a vast array of applications. From automotive and food and beverage to industrial manufacturing its solutions enable increased efficiency, lower operating costs and greater flexibility.
ABB Ability is a collection of ABB's advanced software and its internet-enabled devices that are coupled with the capabilities of Microsoft and IBM through a strategic partnership. The advanced product portfolio makes use of Microsoft's enterprise-grade cloud infrastructure, Microsoft Azure, and IBM's Watson industrial artificial intelligence solution to offer a complete solution that brings real-time insights to the factory with the ability to act and redefine manufacturing excellence.
Conclusion
The industrial internet of things and the connected workplace is to become the future of manufacturing. MarketsandMarkets found that ABB Ability and its portfolio of connected devices is one of several brands leading the way in the smart factory market. Other key players denoted in its recent market research report include Emerson Electric Co., FANUC Corporation, General Electric Co., Honeywell International Inc., Mitsubishi Electric Corporation, Robert Bosch GmbH, Rockwell Automation Inc., Schneider Electric SE, Siemens AG and Yokogawa Electric Corporation.
Resources: