If you've ever signed up for internet service on an airplane flight, you might have been disappointed by the limited bandwidth. Most in-flight internet connections crawl along at speeds that feel more like a 1990s dial-up connection than true broadband.
But a broad spectrum of airlines, satellite providers and cellular technology companies are working to improve aircraft internet services. They are developing faster satellite links and air-to-ground networks to provide passengers with the broadband performance they desire.
In-Flight Internet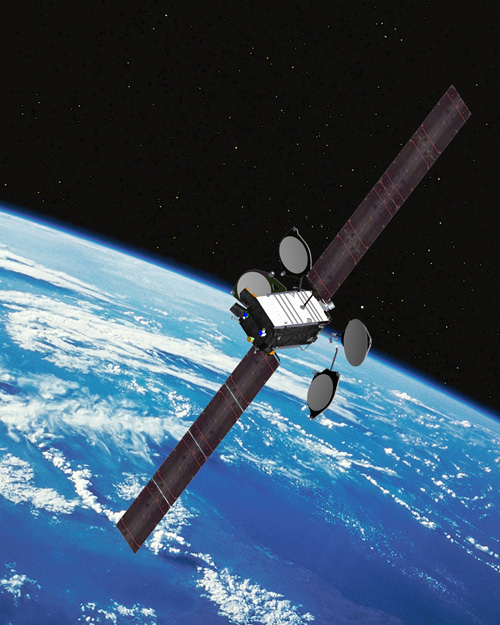 A portion of the SES-15 high-throughput satellite's capacity is allocated for Gogo's 2Ku inflight internet service. Source: SES
Traditionally, in-flight internet delivered by satellite link was hampered by limited bandwidth, high latency and high cost per megabyte. Air-to-ground connections that link aircraft with terrestrial cellular networks were considered superior to satellite, being able to handle more data at faster speeds and lower latencies with a lower cost per megabyte. New high-throughput satellites (HTS) could change that view, with significantly more capacity for the same amount of spectrum compared to older satellites.
In-flight internet provider Gogo utilizes both satellite and air-to-ground technologies for its services. In the U.S., Gogo's air-to-ground network consists of more than 250 towers with fiber optic backhaul and provides 4G connectivity to planes.
Gogo's Biz Next Gen network will build on the company's existing ground network. Utilizing LTE technology, Biz Next Gen will deliver up to 10 times the performance of the older 4G network starting at the end of 2018 or early 2019, with speeds up to 100 Mbps per business plane.
The company also has a new in-flight internet service known as Gogo 2Ku that leverages satellites to provide speeds up to 70 Mbps per aircraft, with the potential to increase to 200 Mbps when next-generation satellites and modems become operational.
In Europe, a new integrated satellite and air-to-ground network based on LTE 4G called the new European Aviation Network (EAN) is expected to roll out across the continent by June 2018. Developed by partners Deutsche Telekom, Inmarsat and Nokia, EAN will offer speeds of 75 Mbps per aircraft.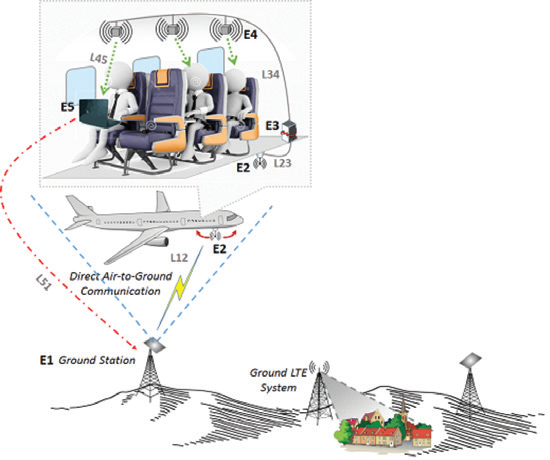 With ICARO-EU, direct air-to-ground communications are enabled by wireless links between antennas on cellular ground stations and aircraft. Source: EIT Digital
ICARO-EU
But European passengers could soon enjoy even faster speeds thanks to the ICARO-EU (Seamless Direct Air-to-Ground Communications in Europe) initiative. A collaboration between KTH, Ericsson, Airbus, BT and FBK CREATE-NET with funding provided by EIT Digital, ICARO-EU aims to establish a seamless mobile broadband service that will offer uninterrupted connectivity from gate-to-gate without requiring user intervention to maintain connectivity. The service will be based on direct air-to-ground communications (DA2GC) with advanced radio technologies enabling data speeds of 400 Mbps per aircraft.
The system consists of 4G/5G systems onboard aircraft connected to base stations on the ground. Wireless communications between aircraft and terrestrial stations employ advanced beamforming and beamsteering techniques to precisely broadcast targeted, high-gain signals. As aircraft travel through the air, the signals are transferred seamlessly between base stations.
Optimized data management techniques were developed and tested at FBK laboratories to manage onboard traffic, including offloading 4G traffic to Wi-Fi to make the best use of network resources.
Onboard MTC
In addition to in-flight internet service, the onboard ICARO-EU system supports various machine-type communication (MTC) applications. MTC involves direct communication between electronic devices. Sensors located around the aircraft send data wirelessly over narrow-band internet of things (NB-IoT), a radio standard designed to enable connectivity for a wide range of IoT devices.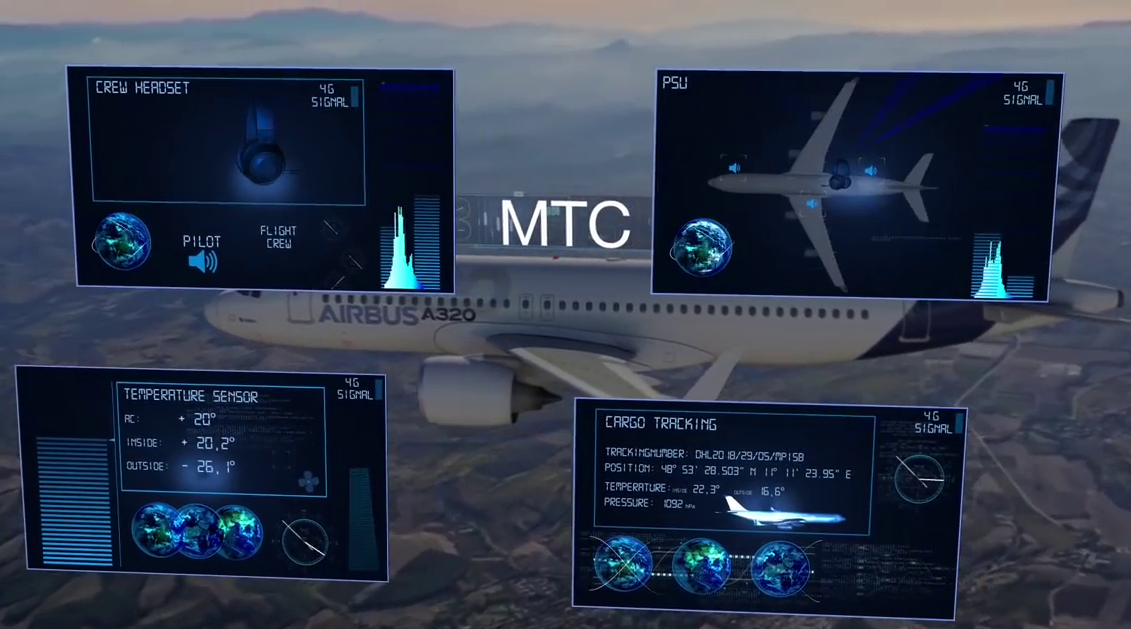 ICARO-EU supports on-board machine-type communication (MTC) enabling wireless data acquisition from sensors located around the aircraft. Source: Airbus
For example, air conditioning system temperature sensor data could be transmitted for display on a flight attendant panel, or data from humidity and force sensors monitoring the condition of cargo could be uploaded to the cloud for remote assessment anywhere in the world.
Another onboard wireless function enabled by ICARO-EU utilizes mobile broadband (MBB) CAT-M. This interface could, for instance, allow communications from crew headsets to be sent wirelessly to passenger service units.
By replacing wired connections with wireless communications over NB-IoT and CAT-M, less cabling would be needed on the aircraft, reducing overall weight and fuel consumption.
System Evaluation
Tests of the ICARO-EU system have been conducted inside a mockup of an aircraft cabin at an Airbus facility in Munich/Ottobrunn. The experiments connected MTC devices and a prototype License Assisted Access (LAA) phone to a local base station and a virtualized 5G network. (LAA opens up more bandwidth than traditional 4G LTE by allowing communication in both the licensed spectrum and the 5 GHz unlicensed band to improve data speeds). MTC IoT devices were connected via the 5G Evolved Packet Core Network supporting CAT-M and NB-IoT standards.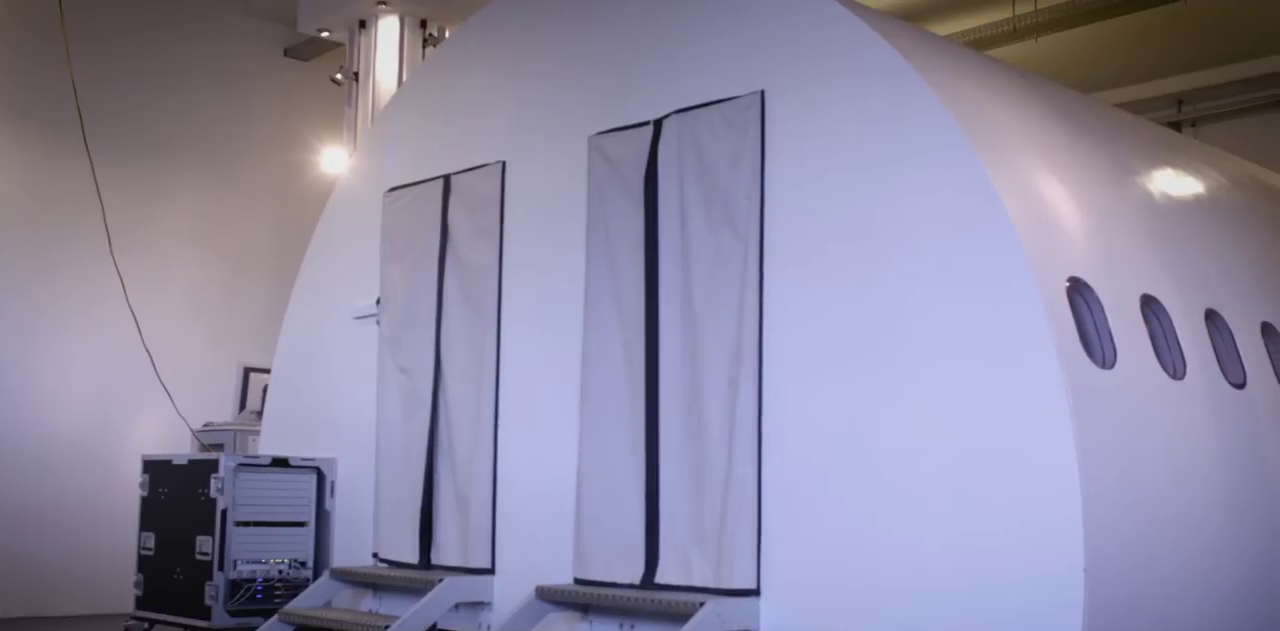 ICARO-EU is undergoing tests inside an aircraft cabin mockup at an Airbus facility in Munich/Ottobrunn. Source: Airbus
On a live BT/EE network in the U.K., tests were also carried out to evaluate ICARO-EU's DA2GC system. A helicopter and a private jet were used to take measurements at multiple altitudes to study the performance of the ground network.
The successful tests point to a promising future for the system developed by the ICARO-EU initiative. If the technology transitions into a fully commercialized system, airline passengers on flights over Europe could soon enjoy reliable broadband and cellular network connectivity at speeds surpassing the soon-to-launch EAN as well as any in-flight services available in the U.S.
Either way, the future for broadband in-flight internet service looks bright, as providers continuously strive to improve network reliability, capacity and throughput.