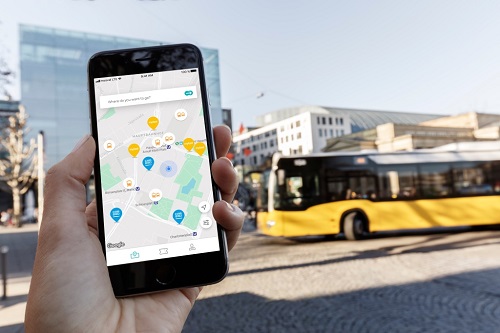 The combined services of BMW and Daimler will be expanded for customers and partners. Source: Daimler
BMW Group and Daimler AG have signed an agreement to merge their mobility services business units that will combine and expand existing on-demand mobility in the areas of car sharing, ride hailing, parking, charging and multimodality.
A joint venture model will be created comprising both companies' mobility services in which each company will hold a 50 percent stake. The two companies will remain competitors in their respective core businesses.
The goal of the automotive OEMs is to bring future mobility to customers and partners — including cities and communities — in achieving sustainable urban mobility. As such, BMW and Daimler plan to grow the new business model sustainably and enable rapid global scaling of services. The merger of the mobility services will promote electromobility by offering electrified car sharing vehicles as well as easy access to charging and parking options.
"The future of mobility lies in cities: The key to more liveable cities is in intelligent and seamless services that are easy to use and combine sustainable modes of transport and mobility services," says Peter Schwarzenbauer, member of the board of management of BMW AG.
The joint venture will focus on combined services in five areas:
On-demand mobility — the services of Moovel and ReachNow will offer solutions for urban private transportation.
Car sharing — Car2Go and DriveNow operate a total of 20,000 vehicles in 31 international cities. The goal is to reduce the total number of vehicles in cities through car sharing services.
Ride hailing — Mytaxi, Chauffeur Privé, Clever Taxi and Beat will be combined and will help contribute to reducing inner-city traffic by eliminating numerous individual trips in the urban space. Currently 13 million customers and some 14,000 drivers use these services.
Parking — Through ParkNow and Parkmobile Group ticketless, cashless, on-street parking or paying for off-street parking in a garage will be combined in order to reduce the time and the amount of driving involved in finding a parking space. The automotive OEMs say cars searching for parking spaces accounts for about 30 percent of road traffic in cities.
Charging — ChargeNow and Digital Charging Solutions will be combined for location, charging and payment of public charging stations. Currently 143,000 charging points are available and with the expansion of electromobility these features will help people find and integrate charging stations into their mobility needs, the companies say.