It's no secret that the robots are coming for our jobs -- coming to retail outlets, coming to sales counters, coming to construction sites, coming to the work office. While the medical arena will withstand some of this penetration of robots, eventually it will happen including dentistry.
But the real question is: Will humans want this to be performed by a robot?
Of all the tasks that humans must have done, going to the dentist generally ranks near the bottom. It's awkward, painful and uncomfortable.
Researchers at Embry-Riddle Aeronautical University have conducted a survey of 502 individuals about their willingness to have a robot perform dentistry on them. Of those surveyed, a majority of them were significantly less willing to undergo more invasive procedures such as gum surgery and root canal and were more willing to undergo procedures such as tooth cleaning or whitening performed by a robot.
Of those surveyed, the promise of cheaper dentistry through robotics increased participants' willingness to accept dental care from an autonomous robotic dentist.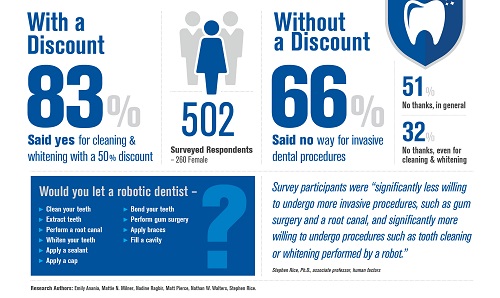 Without a discount, respondents were much less willing to have a robot as a dentist. Source: Embry-Riddle Aeronautical University While robotic dentistry is still in the early stages of development, there are experiments being conducted in various parts of the world on a trial basis.
"It's important to understand consumer perceptions of autonomous technologies," said Emily Anania, a graduate student at Embry-Riddle and lead in the project. "People are not always accepting of emerging technologies. We know from many different studies, for example, that driverless cars and autonomous aircraft technologies cause some people to react with fear or anger. Better insights to those perceptions will be essential in order to increase acceptance of these technologies."
Survey Results
In the survey, 51 percent responded they were moderately or strongly opposed to robotic dentistry and about 66 percent of the participants were very wary of invasive procedures like extractions, root canals and gum surgery. Female responders were less likely to be willing to accept robotic density. Meanwhile, teeth cleaning and whitening were more accepted, with 83 percent willing to undergo the procedure by robots if the price was cut in half.
According to Stephen Rice, associate professor of human factors at Embry-Riddle, robotic dentists have the potential to improve the precision of different dental procedures. The technology could serve to make dental care more accessible in rural or otherwise underserved areas and could free-up dentists to improve healthcare practices and protocols.