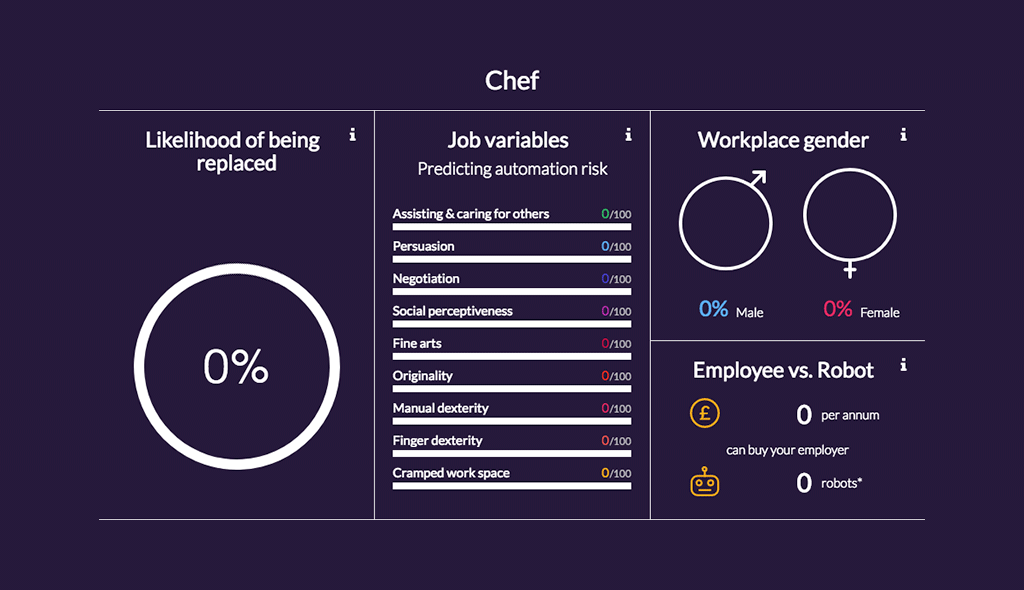 The fear for your job is real.
Robots and robotic automation are already here in the form of the manufacturing, construction, travel and retail industries seeing a large uptick in the amount of machines doing the work that was previously done by humans. But now, a new report from Leisurejobs.com and a study from Oxford University indicate the use of robotics will expand to virtually all industries and will replace about 47 percent of the human workforce by as soon as 2035.
The study shows not just where the workforce will be most impacted but also calculates how many robots an employer could buy with a human employee's salary.
"Unfortunately, we believe that there will likely be a crisis of sorts within the next 20 years or so," a spokesperson for Leisurejobs.com tells Electronics360. "Whether it will be catastrophic or a mere irritant it's too early to say. Without being too pessimistic it is hard to disagree with the potential numbers and we are already seeing a lot of job roles in retail, construction, travel being taken."
According to the research, the main jobs likely to be replaced with robots and robotic automation include telemarketers (impacting more than 220,000 jobs), cashiers (impacting 1.1 million jobs), payroll officers (impacting 403,000 jobs), administrative assistants (impacting 476,000 jobs), receptionists (impacting 475,000 jobs) and retails assistants (impacting 2.7 million jobs). While initially these robots will be more expensive than having a human do the work, the benefits of having robots do the job will pay off over time.
While more expensive than humans, robots will be able to work longer hours, increase efficiency, take no sick days or holidays, but an employer will also own the robot after the first year and make up the savings in the following years by not paying a wage year after year.
Other jobs that are in danger of being replaced by robots by 2035 include those where robots have yet to have much of an impact, including models (such as those that walk the runway), animal breeders, chefs, butchers, couriers, waiters, insurance salespeople, sports writers, real estate agents, security guards, train conductors and train operators.
While the tech sector is a bit safer because it involves a multitude of roles compared to retail, manufacturing or construction, it will eventually find its way into these companies as well as other higher-end jobs such as surgeons, judges, scientists, writers and engineers, depending on the complexity of their tasks and whether they can be improved through automation.
There are some jobs that will be partially replaced with robots and robotic automation, including police officers, retail supervisors, plumbers, flight attendants, artists, translators, engineers, firefighters, lab techs, delivery drivers and teaching assistants. While these won't be completely replaced, they will still be impacted substantially by the rise of robots.
"Unfortunately, no job is 100% robot proof, however some are a lot less likely than others," the Leisurejobs.com spokesperson says. "For example counsellor, psychologist and architect jobs that are very cerebral will likely be the last jobs to go."
Learn more about the findings here.