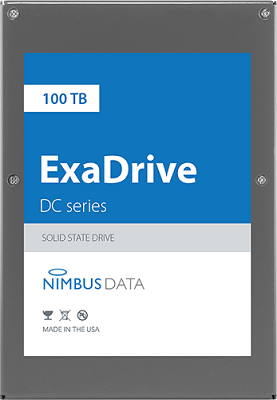 The 100TB SSD. Source: Nimbus DataNimbus Data has introduced a new solid state drive (SSD) with a capacity of 100 terabytes, which the company claims is more than three times the capacity of the closest competitor.
The ExaDrive DC100 reduces the total cost of ownership per terabyte by 42 percent compared to competing enterprise SSDs, the company says, in order to accelerate the move to flash memory adoption in both cloud infrastructure and edge computing.
Drawing 85 percent less power per terabyte and based on 3D NAND technology, the SSD provides the ability to store 20 million songs, 20,000 HD movies or 2,000 iPhones worth of data in a 3.5-inch small form factor.
The SSD is plug-and-play compatible with hundreds of storage and server platforms and achieves up to 100,000 IOps (read or write) and up to 500 MBps throughput. This allows the SSD to be suitable for big data and machine learning as well as cloud infrastructure.
The drive is currently sampling and will be available in the summer of this year.