A Honduran startup called Internet of Trees has a mission to help protect forests around the globe. The curious name takes a cue from the ubiquitous, interconnected sensors being envisioned and deployed for the internet of things (IoT); the focus here is on forest-based sensors with real-time monitoring of temperature variations, smoke and flames. These sensors could be deployed to send early alerts to fire response personnel.
Internet of Trees participated in Startupbootcamp IoT Demo Day 2018, which was held in January in London. Startupbootcamp is a multiple-industry support network for early-stage tech startups which includes Premier Farnell subsidiary Newark element14 as a partner.
We had a chance recently to talk with company co-founder and chief operating officer José Javier Dávila. Here are excerpts from that conversation, edited for space and clarity.
E360: I understand that you're developing a platform to minimize the impact of forest fires through early-warning solutions. How big a problem are forest fires globally, and how much can technology do to address that?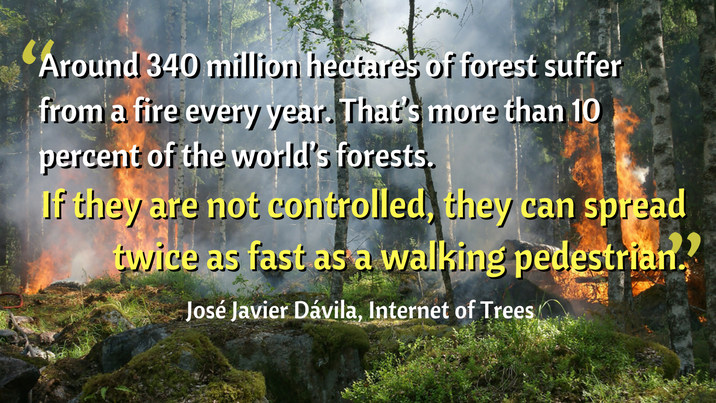 Source: Electronics360Dávila: Around 340 million hectares of forest suffer from a fire every year. That's more than 10 percent of the world's forests. If they are not controlled, they can spread twice as fast as a walking pedestrian.
With these fires, every minute they are left undetected counts. Once they grow big, they devastate everything they find in their path: houses, buildings and of course trees. Many of those fires become so large due to late detection. Those who have first-hand experience with this problem, such as (California Department of Forestry and Fire Protection) Chief Ken Pimlott, acknowledge that fires like those of California last year could have been fought a lot earlier. (Editor's note: The company's presentation deck from the London event noted that the 2017 fires in California involved a burn area 3.5 times larger than London, with 45 people killed and over 9,000 buildings destroyed.)
With current technologies, such as LPWANs (low-power wide area networks), smart sensors and MCUs (microcontroller units), we can now have eyes and ears in the forest, letting us know what's happening even if we're not there, reducing the time between the fire outbreak and the reaction of the firefighting teams.
E360: Tell me more about how the "Fire Ranger" module can be used to monitor the changing conditions in a forest.
Dávila: Our Fire Ranger is a device that is installed in the forest to detect fire, smoke, air humidity and temperature variations. It constantly takes measurements of (these) variables. When any of these readings display an uncommon or dangerous behavior, the Fire Ranger connects to the internet and to our web application to send an alert via SMS or email to the specified stakeholders.
E360: What technology already exists for monitoring forest fires, and how does the Fire Ranger compare in terms of cost and effectiveness?
Dávila: The existing solutions for forest fire monitoring (include) satellite imaging and thermal camera systems to find hotspots. The problem with these two are the frequent faulty readings — false negatives or positives — caused by various natural phenomena. Our detection system is more accurate, which results in a more reliable alternative for potential users.
(In terms of) cost, taking the thermal camera systems as an example, you need to build expensive towers for the cameras to sit on. You (also) have to buy the cameras, which are not cheap. There are other environmental sensor networks, but they are usually cost-prohibitive, being up to four times higher in price (compared to the Fire Ranger network).
E360: How did Internet of Trees get started?
Dávila: Our story starts with a very dangerous event. In 2016, our CEO Goering Coffey almost lost his house to a forest fire that started in the nearby mountains. That's when he decided to start working on a forest-fire monitoring solution, making use of his engineering skills. Later that year, and in the beginning of 2017, we all met at different events of the startup community in Honduras and at some point decided to start working together. The current team is formed of four engineers, and we all share (a) passion for technology and the environment. We cumulatively have over 20 years of experience in project management, telecommunications, mechatronics and software development.
Our current team members are: Goering Coffey, IT Manager and CEO; Allan Villatoro, Electronics Engineer and CTO; Rubén Chévez, Software Engineer and CPO; and José J. Dávila, Telecom Engineer and COO.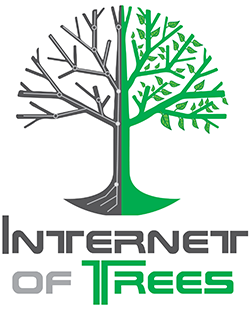 Source: Internet of Trees/Startupbootcamp
E360: How far along is the company in terms of market integration, and how did the Startup Bootcamp assist with your progress?
Dávila: Our web application is online and working. We also have two working prototypes of the Fire Ranger. Our main goal in the short term is to run pilot projects with potential customers in order to prove the effectiveness of our solution and to gain their trust. To achieve this, and to speed our "go to market," we're partnering with expert electronics designers to finish our design as soon as possible. We have also spoken to potential big customers in our country, such as the forestry commission and the firefighting unit of the army. We're also looking for investors that are willing to help us have a greater impact with these pilot projects.
Startupbootcamp has not only connected us to a network of incredible partners, mentors and investors, but it has also contributed a lot to our company's profile, giving us more credibility when speaking to people. The advice they gave us throughout the program has proven to be very valuable, helping us grow faster and work better.
E360: What can our readers expect to see from Internet of Trees in both the short- and long-term future?
Dávila: In the short-term, you'll hear about pilot projects in our home country of Honduras. We are already arranging them with local authorities. It will be very interesting to see our solution working in a forest that actually catches fire during the fire season.
In the long-term, you'll see our solution being used in different parts of the world, saving it from the devastating effects of all the wildfires that occur every year — regardless of the causes that originate them.