The detection and monitoring of forest fires currently relies on the use of satellite imagery, aerial patrols or ground crews. More timely feedback is crucial to combat fires before they spiral out of control and cause extensive damage, spurring researchers in China to develop self-powered, green ionic-type thermoelectric paper chips as sensors to quickly detect and transmit information about fire events.
Ionic liquids were selected to function as thermoelectric materials on the surface of gold electrodes connected in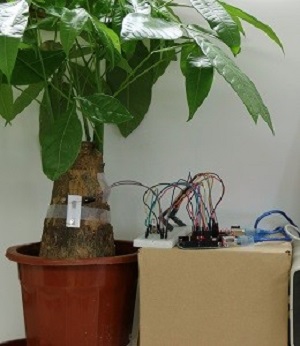 A sensor (white strip) on a houseplant activates an alarm when fire is near. Source: Xun Wu et al. series on one paper chip. More economical and environmentally sustainable than solid inorganic semiconductors commonly used for such application, two different types of ionic liquids are employed to generate signals. One adsorbs to the electrode surface as temperature increases while the other desorbs, generating elevated voltages on exposure to a temperature difference of 35 K.
The researchers from Renmin University of China and Beijing University of Chemical Technology tested the paper sensor by placing a fire source close to the roots of a houseplant. The voltage signal produced as the temperature at the bottom of the sensor rose was wirelessly transmitted by an attached microcomputer chip to a receiver, which then triggered a sound alarm and a red light.
The thermoelectric paper chips, which incur a cost of $0.04 each, could provide a rapid alarm solution at the early forest fire stages.