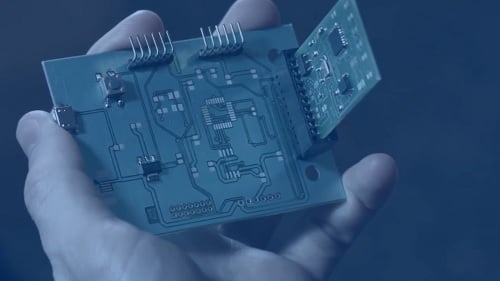 ThingBlox is a hardware module that gives secure wireless connectivity to any IoT device. Source: ThingBloxPremier Farnell, a division of Avnet Inc., has shared its startups to watch in 2018 following its three-month accelerator programing as part of the Startupbootcamp IoT (internet of things) platform.
Since December of last year, nine startups have joined the program and the company has been working with the startups to develop ideas and bring the products to market. During the demo day, which took place last month, startups pitched for second-round funding seeking $5.7 million to support the next stage of development.
Of the startups, eight are focused on addressing issues regarding industrial IoT while the other is focused on automotive safety.
The top picks from Premier Farnell are seen has having broad application in the markets with ample growing market opportunities.
The startups on the list include:
HUDlog – A company that has created a retrofit heads-up display unit for commercial fleets designed to help correct expensive and dangerous commercial driving behavior in real-time while at the same time improving both fuel and insurance operational costs. The HUD provides a braking and accelerator guide, speed gauge and navigation control in a commercial driver's windshield.
ThingBlox – A plug and play hardware module that allows IoT devices to communicate more securely. The ThingBlox is plugged into a connected device and each one will have secure wireless connectivity hardware-based authentication and automatic mass provisioning. The solution can be integrated by any device manufacturer without the need for security or communication experience.
Internet of Trees – This company is developing an early warning system to minimize the impact of forest fires. The connected module attaches directly to a tree to detect smoke, fire, air humidity and temperature variations in a forest. If a fire is detected, forest rangers and firefighters are alerted immediate through an app or SMS with the location of the detector.
Odyssey Sensors – A company that provides cheap and reliable sensor technology to support small farmers. The out-of-the-box device allows farmers to remotely monitor water points around their farms saving time and fuel miles by using an app that alerts farmers when something goes wrong.
Mothive – A field module that gives fruit farmers real time recommendations and alerts through a dashboard that allows farmers to track their crops and know when to pick them. It also helps drive farm automation and reduce waste.
Storybot – A company developing a screen-free gaming device to promote physical and social activity in children. Children grab the gameball in their hands and do physical activity through different games and a set of quests that are inside and outside the home.
Unifi.id – Using RFID technology to provide insight and control to building managers, this company allows building managers to get real time insights where every individual is in a building. Through the system, managers can communicate with users, monitor movements and create operational efficiencies without users having to tap, download or sign into anything.
Sonodot – A company offering material handling operations with real-time tracking of high value assets. The sensors allow managers to track forklifts in real time thus boosting safety and efficiency by receiving instant updates on where and how the vehicles are performing, as well as provide insight for performance evaluations.