Qwake Technologies recently demonstrated its C-THRU operating system designed to improve human performance in stressful and hazardous environments.
During a test that took place with the Menlo Park, California, fire department, the system was integrated into a next-generation firefighter mask combining neuroscience, augmented reality and machine vision to enable fast navigation through smoke filled environments.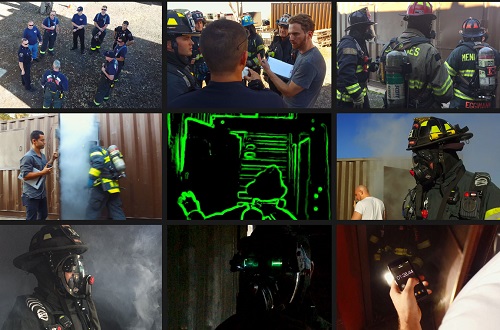 The C-THRU technology integrated into firefighter masks. Source: Qwake TechnologiesThe technology maps the geometry of a room in real time, reducing what the firefighter is seeing to just shapes and contours rather than smoke-filled areas. The information is projected into a user's field of view through augmented reality. This eliminates the need for a firefighter or first responder to hold by hand a thermal imaging system and then trying to interpret the scene and remember what they saw before taking action. Instead, it outlines navigation through a transparent AR and it is overlayed in the user's environment in real time through computer vision.
During the test, Qwake claims the results were a 267 percent performance improvement over competing thermal imaging devices and reduced mission times from 4.5 minutes down to 1.6 minutes.
Qwake is using the Nvidia Tegra mobile processor to generate the machine vision algorithms and contracted transparent AR display maker Lumus to provide the transparent optics for the C-THRU system.
In addition to allowing better vision and response time for firefighters and first responders, the system also can wirelessly transmit visual information and location tracking to a command station to improve situational awareness.
While Qwake is demonstrating the technology in protective equipment for firefighters, the technology could be ported to other search and rescue applications such as drones, robots or handheld devices.