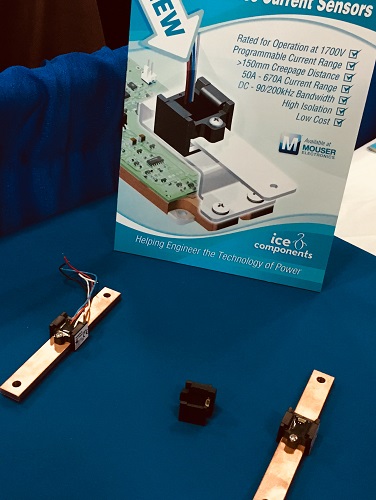 The ISB series. Source: Nicolette Emmino/Electronics360ICE Components touted its new series of current sensors designed to work with a range of busbar applications with currents ranging from 75 amps to more than 670 amps at the recent 2018 Applied Power Electronics Conference (APEC) in San Antonio, Texas.
The ISB series are custom ASIC-based hall effect devices that operate without the need for the core and winding commonly used in current sensors. The devices feature low insertion loss, high isolation, fast response, wide bandwidth, small size and an easy-to-assemble busbar. The devices are factory programmable for output type and customizable current range.
The devices include a PCB assembly, shield and a mechanical package to integrate the component parts. ICE Components says this allows for a lower cost than traditional current sensor while offering performance between typical open loop and closed loop designs.
The U-shaped shield of the design of the current sensors is used for the magnetic flux density concentrated inside the shield. Because of the smaller magnetic resistance, a higher magnetic flux density is generated in the gap of the shield. This flux density is increased with the shield when the same current is applied. This helps the current sensors to measure low current levels when compared to the overall current range of the sensors. The shield also helps protect the sensor from stray EMI fields, maintaining a distance of 12.7 mm from the adjacent high current paths that the specified accuracy can maintain.