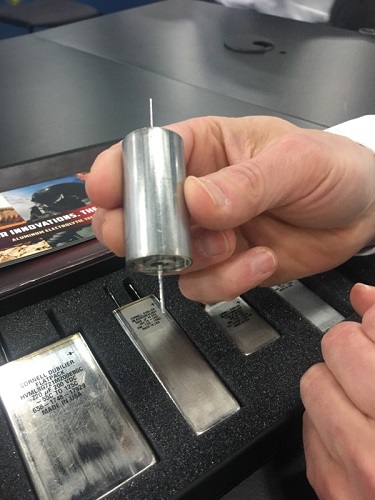 The Type HHT 175 degree Celsius aluminum electrolytic capacitor shown at APEC. Source: Nicolette Emmino/Electronics360When it comes to mission-critical applications such as those found in military or space, reliability and the ability to withstand the harshest of conditions is of paramount importance.
Cornell Dubilier Electronics' (CDE) aluminum electrolytic capacitors are designed to fit into these applications including radar, military and commercial aircraft power supplies and off-road vehicles as well as industrial applications such as downhole drilling.
CDE brought its capacitors to this week's 2018 Applied Power Electronics Conference in San Antonio to showcase its technology that it claims is an alternative to wet tantalum capacitors.
The company's Type HHT 175 aluminum electrolytic capacitor is designed for long life in harsh conditions with high capacitance stability at 175 degrees Celsius up to 20 G vibration. CDE claims the Type HTT is the only aluminum electrolytic on the market with 175 degree Celsius performance with a glass-to-metal seal that prevents normal dry-out of the capacitor electrolytic. The component is rated with a lifespan of 2,000 hours and a 10-year shelf life, retains capacitance at negative 40 degrees Celius and comes in nine values from 470 µF to 4,700 µF.
The MLSH 125 Hermetic slimpack is billed as the only hermetically sealed aluminum electrolytic capacitor with a glass-to-metal seal for long life for power applications that operate in harsh environments. Much like the HHT capacitor, the MLSH 125 suffers from no dry-out while offering high capacitance retention at low temperatures. The capacitor can withstand up to 80 G of vibration with a 125 degree Celsius maximum operating temperature and is lighter than equivalent wet tantalum. Other features include a 1.5 V reverse voltage and a life test to 5,000 hour at 125 degrees Celsius.