A new class of shape-shifting materials — reminiscent of the morphing materials fictionalized in "Terminator" movies — could advance soft robotics, smart electronics and reprogrammable circuit board technologies.
Researchers at the University of Sussex and Swansea University have demonstrated that liquid metal — in this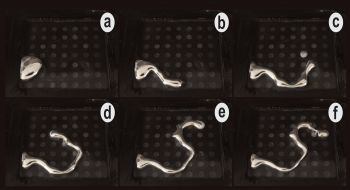 The researchers apply electrical charges to morph liquid metal into 2D shapes. Source: INTERACT Lab/University of Sussexcase, a gallium indium eutectic alloy — forms different 2D shapes upon application of an electrical charge. Computer control of the electric fields used to induce shape-changing indicates that the position and morphology of the liquid metal can be programmed and controlled dynamically.
Professor Sriram Subramanian, head of the INTERACT Lab at the University of Sussex, said: "Liquid metals are an extremely promising class of materials for deformable applications; their unique properties include voltage-controlled surface tension, high liquid-state conductivity and liquid-solid phase transition at room temperature.
"One of the long-term visions of us and many other researchers is to change the physical shape, appearance and functionality of any object through digital control to create intelligent, dexterous and useful objects that exceed the functionality of any current display or robot."