Skyworks Solutions Inc., a Woburn, Massachusetts-based innovator of high performance analog semiconductors, has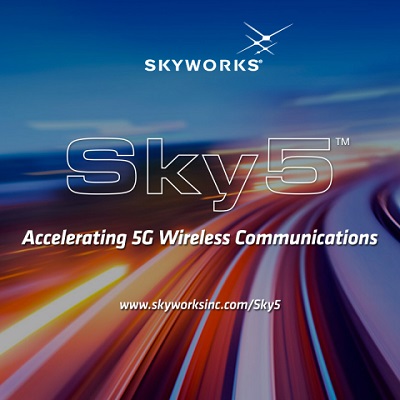 Source: Skyworks Solutions, Inc.launched its first family of products from its breakthrough Sky5™ platform enabling 5G connectivity. The advanced wireless engines include highly integrated, high performance transmit/receive front-end solutions as well as diversity receive (DRx) modules. These are designed specifically for new spectrum in the sub-6 GHz range, and are baseband agnostic and compliant with 3GPP standards. Future products will include modules that address eLAA and C-V2X applications in the same frequency ranges.
To meet early demand for sub-6 GHz 5G new radio (NR) usage cases, Skyworks is leveraging its vast technology portfolio to meet requirements for low, mid, high and ultra-high cellular frequency bands. Through its powerful SkyBlue™ enabling technology, these modules also provide industry-leading power efficiency. All Sky5 solutions will support new 5G waveforms and spectrum in addition to enhanced carrier aggregation and dual connectivity (4G/5G) while delivering exceptional levels of integration and performance.
According to Ericsson's June 2017 Mobility Report, 15 percent of the world's population is expected to be covered by 5G in 2022. North America is projected to be first in adoption rates for 5G with a quarter of all mobile subscriptions in the region to be on 5G by 2022.
The GSMA reports that 60 percent of the world's population is already covered by 4G networks and more than 2.5 billion individuals are connected to 3G or 4G networks and services. LTE-Advanced networks will form the foundation for rapid rollout of 5G, providing both networks and platforms to further digitize economies and societies.
Skyworks at Mobile World Congress
Skyworks representatives will be in Hall 2, Stand I-2.