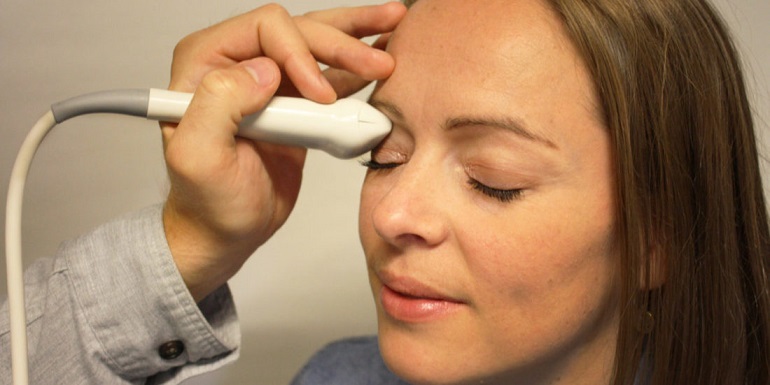 By examining the patient's eye with ultrasound, doctors can reveal high brain pressure. Source: NiSonic AS
Elevations in intracranial pressure following an accident are detected directly using a sensor that is surgically inserted into the patient's head via a hole made in the skull. In addition to its invasive and risky nature, the procedure is expensive and resource-demanding.
A new tool designed by a pediatric neurosurgeon from the University of Cape Town, South Africa, and tested by researchers from SINTEF, Norway, can document the same measurements by examining the eye. Initially manually operated, the most recent iteration of the ultrasound device is simpler to use and incorporates artificial intelligence technology, making the diagnostic more user-friendly and enabling intracranial pressure measurements to be carried out at an earlier stage.
When placed on a patient's eye, the ultrasound probe identifies structures on the image generated and delivers measurement results. First tested on 16 patients in South Africa, followed by a group of 28 in a blind study, the tool successfully identified those with elevated intracranial pressure.
The researchers plan to fine-tune the device, now being commercialized by Norwegian company NiSonic AS, for application at accident scenes or by ambulance personnel en route to the hospital.
The study is published in the journal Operative Neurosurgery.