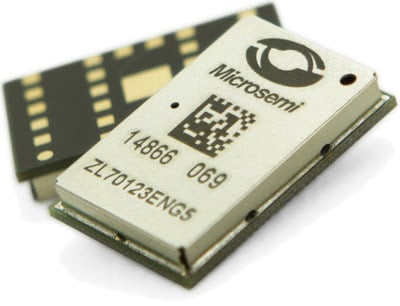 The ZL70123 RF base station module. Source: MicrosemiMicrosemi Corp. has introduced a new radio frequency (RF) base station module for implantable medical devices.
The module, the ZL70123, was developed specifically for external controllers and monitors of implantable medical devices. The base station module when combined with the company's existing ZL70323 implant module offers a complete solution for next-generation medical networks.
Implantable medical applications are increasingly being used in combination with RF technology for cardiac care, physiological monitoring, pain management and obesity treatments.
P&S Researcher says the market for active implantable devices—pacemakers, defibrillators and neurostimulators—is expected to maintain an 8% compound annual growth rate (CAGR) over the next five years, reaching nearly $29 billion by 2023.
The ZL70123 module features integrated matching network capability with a nominal 50 ohm RF port, bandpass filter for suppression of unwanted blockers and 2.45 GHz wake-up transmitter with a nominal 50 ohm RF port.
The device is in production and is available now.