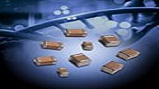 AVX Corporation has released the MM Series multilayer ceramic capacitors (MLCCs) for medical applications. The MM Series MLCCs are designed for medical devices that require significantly less parametric flexibility than commercial capacitors offer, but stop short of demanding the exceptionally stringent features of fully qualified medical capacitors. To further mitigate the risks already addressed by the defined designs, materials, processes, and manufacturing facilities regulated by medical design and change controls, MM Series MLCCs also undergo internal reliability qualification, enhanced lot acceptance testing (LAT), and 100% inspection.
The capacitors are available in NP0 (C0G) and X7R dielectrics, eight case sizes spanning 0402 to 2220, eight rated voltages spanning 10 V – 500 V and capacitance values spanning 0.5 pF to 1.5 μF. They are ideal for use in a wide range of medical devices, aside from those that are both implantable and life supporting -- including implantable, non-life-sustaining medical devices, such as insulin pumps and temporary implantable cardiac monitors; external, life-sustaining medical devices, like external controllers for heart pumps; and strictly external medical devices, such as patient monitoring and diagnostic equipment.
Unlike commercial MLCCs, MM Series MLCCs for medical applications feature specific series part numbers to control product supply. With regard to design and dicing, MM Series MLCCs have a minimum ceramic thickness of 0.029 in. (vs. 0.020 in. for AVX X7R products), 0.004 in. minimum side and end margins (vs. 0.003 in.), and cover layers measuring a minimum of 0.003 in. Additionally, many more MM Series parts are subjected to lot qualification destructive physical analysis (DPA) than are recommended by the EIA RS469 document, and all tested parts are held to significantly stricter criteria.
The series also undergoes 100% inspection for visual and cosmetic quality -- versus standard process and inspection -- and is not only subjected to increased sampling for accelerated wave solder on X7R and NP0 dielectrics, but also subjected to lot-by-lot reliability testing. MM Series MLCCs are shipped on 7 or 13 in. reels. Lead-time for the series is 12 weeks.