Imagine seeing your vital signs in real time, right on your wrist. It could happen sooner than we think, according to new research from the University of Tokyo's Graduate School of Engineering.
A new ultrathin, elastic display fits snugly on the skin and can show the moving waveform of an electrocardiogram (a display of a person's heartbeat), recorded by a breathable, on-skin electrode sensor. Combined with a wireless communication module, this integrated biomedical sensor system — called "skin electronics" — can transmit data to the cloud or right to a smartphone.
The research is an academic-industrial collaboration led by Professor Takao Someya at the University of Tokyo's Graduate School of Engineering.
The skin display, developed by a collaboration between researchers at the University of Tokyo's Graduate School of Engineering and Dai Nippon Printing (DNP), a leading Japanese printing company, consists of a 16 by 24 array of micro LEDs and stretchable wiring mounted on a rubber sheet. It can stretch up to 45 percent larger than its original size.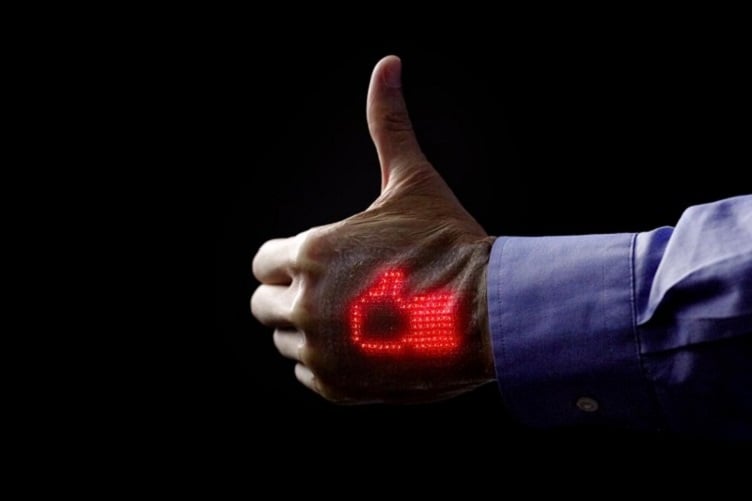 A thumbs-up image on the skin display serves as an indicator of good health. Source: 2018 Takao Someya Research Group.
"Our skin display exhibits simple graphics with motion," said Someya. "Because it is made from thin and soft materials, it can be deformed freely."
The sensor can be worn up to a week without any skin irritation and it is more resistant to wear and tear than previous wearables. Not a single pixel failed in the matrix-type display while attached snugly onto the skin and continuously subjected to the stretching and contracting motion of the body.
The newly-developed skin electronics system aims to increase accessibility for people such as the elderly or the infirm, who tend to have difficulty operating and obtaining data from existing devices and interfaces. The technology hopes to cut down on excess visits to doctors offices, make health problems manageable and make life easier.
"The current aging society requires user-friendly wearable sensors for monitoring patient vitals in order to reduce the burden on patients and family members providing nursing care," said Someya. "Our system could serve as one of the long-awaited solutions to fulfill this need, which will ultimately lead to improving the quality of life for many."