Line sensors continuously monitor the electrical power grid, providing an economical means of grid fault identification, power outage detection, substation automation and condition-based maintenance — but what are they and what added value will be provided by next-generation line sensors?
What is a Line Sensor?
Line sensors are IP-addressable sensors that capture and process detailed power line data. They are essentially a remote oscilloscope that is designed to be implemented along multiple nodes or points on a power grid. The decentralized approach is used to gather valuable field data without the traditional costs associated with data collection.
The connected sensors transmit useful data for analysis and response. Sensor capabilities include current, conductor temperature and voltage characteristics measurements. They typically include an onboard GPS unit and calibrated clock source to define the devices location and power load at a Coordinated Universal Time (UTC).
Next-Generation Line Sensors
As a distributed model takes over the electrical grid with a two-way power flow, the value provided by line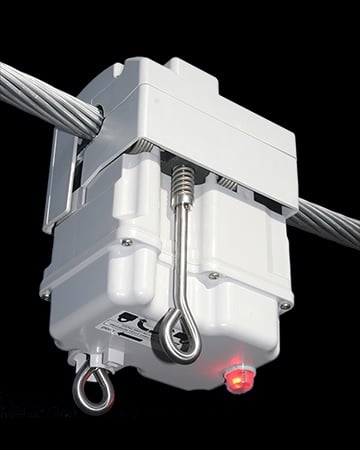 Source: Sentient Energy, Inc. sensors will expand from traditional safety and reliability data to include economic and technical data. Their ability to produce benchmark data required for feasibility studies and future innovation is evident, and solution providers like Sentient Energy are making it possible with the release of next-generation sensor platforms.
Next-generation line sensors are designed with increased functionality in mind. They are typically complemented by distributed applications and cloud computing or other analytics platforms. These new sensors record grid activity and are equipped with high-resolution oscillography technology and waveform analytics that are packaged in the sensor unit itself.
Sentient's flagship line sensor, the MM3™, is an intelligent line sensor that features substation-class measurement, computing and processing capabilities. The device operates like a smartphone. It can evolve to meet future needs of the utility grid by downloading new apps over-the-air.
Its ability to capture and process detailed data locally helps to minimize the amount of data transmitted. With a decentralized approach, the devices can be installed at critical points along the network and communicate specific alerts and analyses to a SCADA system or Sentient's own Ample™ Analytics modules.
Sentient's Grid Analytics System was designed to support most field area networks used in the utility industry today. Their MM3 intelligent sensor is available with wireless communications capabilities that leverage 3G and 4G cellular technology. They are also available with RF Mesh technology.
Their devices incorporate leading communication platforms that are designed to protect sensitive data while delivering near real-time alerts and notifications across the grid directly to the utility's SCADA system, as well as to Sentient's Ample Analytics platform for long-term analysis, system planning and power-quality studies.
Power Harvesting Fault Indicator
Even traditional applications of line sensors are being improved upon. The basic function of a line sensor is to function as a fault indicator. To form an effective node monitoring system that detects and sends an alert when problems occur, a network of line sensors are required. This allows line crews to service faulted equipment with minimal delay as the precision of the fault location is a function of the number of devices deployed.
Analog Devices new line sensor architecture was designed with a lower total cost of ownership in mind. Utilities are able to deploy more nodes within the power infrastructure to achieve better measurement accuracy while they consume less power and need less maintenance.
Their power-harvested fault indicator design is made possible by incorporating three independent power sources into the power supply architecture. A control algorithm balances the power line sensor, rechargeable battery and supercapacitor under changing load conditions while at the same time guaranteeing always-on operation.
The complex power supply architecture enables faster startups, lower power consumption and smoother operation of the system. The improved power management also decreases the amount of required maintenance as batteries are replaced less often and line crews need to perform fewer system checks.
Resources:
The Next Generation of Line Sensors: Power Harvested, Connected, and Lower Maintenance