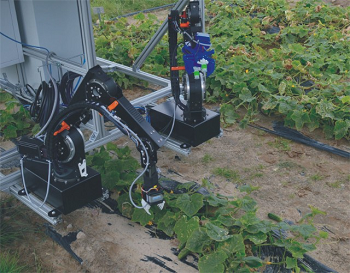 A prototype of the dual-arm robot system during the first field tests. Source: Fraunhofer IPK
Cucumber farmers in Germany have found themselves in a bit of a … pickle. Operating costs are increasing, and reliance on labor-intensive manual harvesting has prompted many farmers to relocate to Eastern Europe.
No big dill. A new harvesting technology promises to bolster the economic viability of cucumber production in the country. Researchers are advancing a lightweight, dual-arm robot for automated cucumber harvesting under the EU project CATCH — "Cucumber Gathering — Green Field Experiments."
The project partners are charged with designing a robotic picker that can identify ripe cucumbers and deploy its gripper arms to gently collect and store them. State-of-the-art control methods will provide tactile perception and enable the robot to adapt to ambient conditions. The automated harvester must also be as efficient as its experienced human counterpart, who can pick as many as 13 cucumbers per minute.
Project participants from CSIC-UPM in Spain are using multispectral cameras and intelligent image processing to help locate cucumbers and guide the robot's gripper arms to pluck them. A special camera system helps ensure that the robot detects and locates approximately 95 percent of cucumbers, an impressive success rate.
Fraunhofer-Institute for Production Systems and Design Technology has developed robot arms with five degrees of freedom on the basis of hardware modules developed by igus GmbH in Cologne. Three gripper prototypes are being developed: a gripper based on vacuum technology, a set of bionic gripper jaws (Fin Ray®) and a customized "cucumber hand" based on OpenBionics robot hands. Engineers are fine-tuning a previously devised dual-arm robot control system with efficient task-oriented programming. The capability to plan and program robotic harvesting behavior should enable bimanual searching and allow the robot to look for and harvest cucumbers as a human would.
Basic functionality of the robot system was validated in initial field tests conducted in July 2017 by the Leibniz Institute for Agricultural Engineering and Bioeconomy, which also trialed harvesting new types of cucumbers with distinguishing features that make them easier to pick.