Skyworks Solutions, Inc., a Woburn, Massachusetts-based manufacturer of semiconductors for use in radio frequency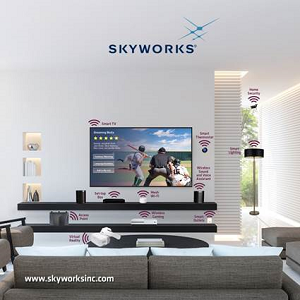 Source: Skyworks Solutionsand mobile communications systems, announces that its broad product portfolio is rapidly being adopted by the world's leading connected home and mesh network providers. Skyworks' highly integrated systems are being leveraged by Amazon, Asus, AT&T/Directv, Bosch, GE, Google, Netgear, Plume and Sonos to enable faster, seamless access and extend wireless ranges. Applications vary from voice assistants to home security systems, smart thermostats, wireless audio speakers, smart TVs, set-top boxes and emerging Wi-Fi mesh network radio nodes. Skyworks' advanced modules simplify complex interoperability challenges by addressing all key protocols including Wi-Fi®, Bluetooth®, Thread and ZigBee®.
Skyworks will be hosting meetings at CES 2018 in the Las Vegas Convention Center, South Hall, Meeting Room MP25756.
According to a Cisco report, the consumer home segment could account for nearly half of all M2M connections, or nearly 5.8 billion in 2020, up from 2.4 billion in 2015. KBV research estimates that the global wireless mesh network market is expected to reach $8.9 billion by 2023, representing a compounded annual growth rate of 10 percent from 2017.