Toshiba America Electronic Components, Inc. (TAEC) announced on January 9 that it has added two new IC devices that are compliant with the Bluetooth® low energy standard. The TC35680FSG and TC35681FSG communication ICs will begin sample shipments later this month.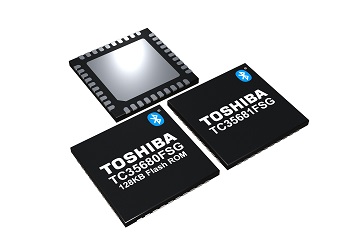 Source: TAECThe new communication ICs support the full spectrum of data rates required for the high-speed features — 2M PHY and Coded PHY (500 kbps and 125 kbps) — found in the Bluetooth 5.0 standard. They also deliver an industry-leading receiver sensitivity level of -105 dBm (at 125 kbps) and a built-in high efficiency power amplifier in the transmission block that provides up to +8 dBm transmission power. The TC35680FSG features built-in flash memory.
The TC35680FSG and TC35681FSG are ideal for applications requiring long-range communication, including beacon tags, IoT devices and industrial equipment.
Toshiba America Electronic Components Inc. is the U.S.-based electronic components business of Toshiba Electronic Devices and Storage Corporation. TAEC offers consumers and businesses a wide variety of innovative hard disk drive (HDD) products plus semiconductor solutions for automotive, industrial, IoT, motion control, telecoms, networking, consumer and white goods applications.