Source: Consumer Technology Association
The granddaddy of consumer technology events is upon us.
Set to run from Jan. 9-12, 2018, in Las Vegas, CES 2018 continues a half-century tradition as a proving ground for innovators and breakthrough technologies. According to the Consumer Technology Association, which hosts the annual event, this year's show will include more than 3,900 exhibiting companies, along with more than 170,000 attendees from 150 countries.
Whether you're able to attend the event in person (like our own Pete Brown) or will be watching virtually from the sidelines (like the rest of us), here's a rundown of some top trends to look for.
8K TVs
4K is so 2017. It was last year that TV manufacturers were pushing to make 4K — screen display resolutions on the order of 4,000 pixels — as the new standard. Now manufacturers looking to cash in on the popularity of ever-increasing resolutions are rolling out equipment designed to double that resolution. The catch, however, is whether or not any available content will allow users to appreciate the difference — and indications lead us to believe that is still a ways off. Still, televisions capable of displaying 4K resolution started appearing before content started being rolled out — this is sort of a case of the hardware staying ahead of the software. Early adopters stand to be ready for the next revolution when it comes.
Wearables
Wearable tech is exploding; sensors are being incorporated into just about anything you can think of, from fashionable watches to smart pet collars. An ongoing interest in fitness seems to be the main driver of the technology, and devices are now available to monitor and collect data on all parts of the body. Near the end of CES 2018's four-day span, the editors of British tech magazine Stuff will announce the picks for their annual Wearable Tech Awards; watch this space for more.
Automotive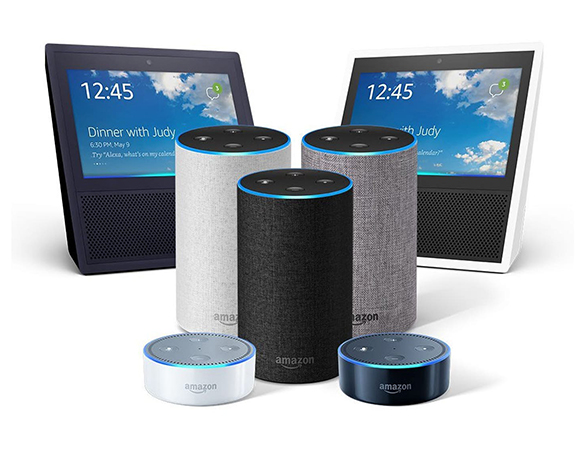 Amazon's Alexa for Business Starter Kit includes a range of devices for conference rooms and desktop use. Source: Amazon
Expect the buzz to be squarely planted on autonomous vehicles, which are poised to spur evolution throughout the entire automotive ecosystem. One area with particular promise for market growth is personal mobility — the in-car activities in which passengers can engage once driver distraction is no longer a factor. We're past the point where auto manufacturers can impress us simply by saying they're rolling out driverless cars, because all of them are doing it. Now the marketplace is set to reward those who develop autonomous car nuances that are both functional and fascinating — from wireless connectivity that allows a user to pay for gas through a dashboard interface to windshield-based augmented reality for information on external objects.
Smart Home
If the smart home revolution has a name, that name is Alexa. Amazon's intelligent, voice-activated assistant has branched out from the home base of the Amazon Echo smart speaker and been incorporated into the tech interfaces of a wide range of products from smaller companies — and now, everything from security systems to coffee makers comes with Alexa functionality. The company is sponsoring a series of workshops and sessions at CES 2018, in line with keeping that momentum going. And although Amazon may have gotten a leg up on the competition, other titans of tech have no intention of getting left behind. Competition for smart home dominance is heating up with new products from Google, which introduced the intelligent Home speaker in 2016 and will have a large presence at this year's CES; and Apple, which will release its Siri-controlled Home Pod speaker later this year.
5G
Although commercial availability isn't expected until 2020, the development of a next-generation telecommunication protocol to replace the current 4G standard represents a significant paradigm shift. It goes beyond the mere promise of ever-increasing network speed, and enters into an imagined world of ubiquitous connectivity that includes appliances, cars, infrastructure and more. Expect telecom providers to give progress reports on the rollout of 5G, which will shape the development of "smart cities" that can be thought of as the next frontier beyond the smart home. Such cities rely on multiple-sensor orchestration to perform civic maintenance on everything from garbage collection to gunshot intervention, and CES 2018 will almost certainly include wide-ranging demonstrations of device prototypes designed to help make smart cities a reality.