Doctors are warning patients that have been receiving deep brain stimulation by neurostimulators in their brains that the device could malfunction when around electromagnetic fields. Typically the electromagnetic fields that people are warned about are at work, in their homes and at the hospital. But there is a new electromagnetic field source for patients to be wary of: lightning.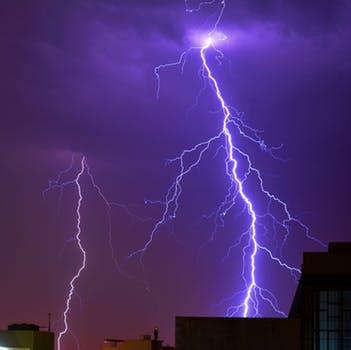 Lightning potentially dangerous to people with deep brain stimulators. (Source: pexels)
Neurologists from Slovenia have released a new study on a patient whose implantable pulse generator (IPG) shut off automatically when the patient was in the middle of a severe thunderstorm that destroyed some of the small appliances in her apartment.
An IPG is a microelectronic device that is battery operated. Typically it is put in the upper thoracic region under the muscle or skin. The IPG delivers electrical stimulation to the electrodes and the stimulation helps relieve symptoms.
Deep brain stimulation (DBS) surgery treats a variety of movement disorders as well as some psychological disorders in patients whose symptoms are not diminished with medication. During DBS, one or more wires with electrodes, called leads, are inserted into the brain in the areas that need treatment. Leads are connected to an IPG.
In the paper, the researchers talk about a woman who had a rechargeable IPG to relieve the symptoms from her neck dystonia. A thunderstorm in her town resulted in lightning which struck the electrical set up in her apartment. Her TV and air conditioner, both of which were on, were destroyed by the lightning strike. About an hour after the strike, the woman noticed that her symptoms came back and she went to the doctor who told her that her IPG needed to be reset. While the IPG was not harmed by the strike, it did shut down by the electromagnetic field that was created by lightning. If the woman was charging her IPG at home at the time of the strike, the authors say she could have been seriously injured or killed when the lightning struck.
The paper that the researchers wrote describes safety tips and suggestions for patients, clinicians and IPG manufactures to make the device safer for patients. The paper was published in the Journal of Neurosurgery.