CES 2018 will bring the Motor City to Las Vegas next month, as self-driving technologies, aftermarket enhancements and smart mobility technologies are on display. But a recent study from Deloitte on consumer opinions on advanced vehicle technology found that globally, there's no real consensus on what technologies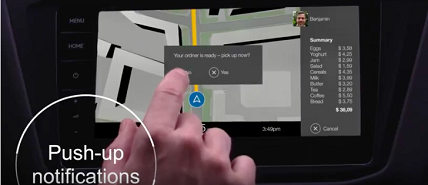 LIV 2.0 helps drivers streamline erranding. Source: Aptiv automobile shoppers want most. In fact, preferences seem to vary depending on country.
For instance, Germans are least interested in fully automated cars, perhaps reflective of that populations' intimate relationship with building precision automotive technology. Americans are most interested in basic automation, in which the driver maintains full control. Of all regions surveyed — Germany, China, India, the United States, South Korea and Japan — consumers in India are the most interested in fully autonomous driving, which the report authors surmise is partly due to the high number of accidents and road fatalities caused by human error in that country.
However, autonomous driving can offer benefits in addition to reducing accidents that result from driver fatigue and traffic congestion. New offerings can provide not only a chauffeur, but a competent assistant as well.
At CES, IAV Automotive Engineering will demonstrate automotive technology that allows vehicles to communicate with their surroundings, saving drivers and passengers time while boosting the local economy. The solution, Drive2Shop, turns the automobile into a digital marketplace, where drivers and their passengers are connected with nearby shops and can easily make purchases. Either the driver or passenger may be the customer.
The system aligns the offerings of local businesses with the customer's buying preferences or newly created shopping list, which is collected and stored in the cloud in advance. Customers can also make spontaneous requests by voice input during the ride. Once the system finds a match, the driver is offered the best possible proposal. If a purchase is confirmed, the car navigates the driver directly to the shop. Payment is made using a secure transaction from the vehicle when the customer arrives. The order is then obtained in similar fashion to click and collect (or buy online, pay in store), and the shopper never has to leave the car.
Consumers can more easily understand and accept the convenience feature of autonomous driving than the safety aspects. Convincing customers of autonomous car safety is a huge challenge for automakers. A significant percentage of drivers are skeptical about self-driving vehicles' safety: Deloitte's research found 74 percent of U.S. drivers felt that full self-driving vehicles will not be safe. Recognizing that the relationship between a driver and a car puts far more at risk than the relationship between the same person and his or her smartphone, Aptiv has developed LIV 2.0, which the company refers to as a "5th occupant in the vehicle." LIV 2.0 will be featured at CES.
The technology is more than a mechanical voice overlay; it is capable of sensing driver and passenger instructions and moods through an array of sensors that track sound and hand movements. It can then communicate with the human occupants based on observations, including sensing driver gaze, emotion, cognitive load, drowsiness, hand position and posture. It then combines that information with data on the external environment to yield driving experiences that are not only safer, but cause the driver to feel that way as well. The goal is not to simply provide a safe experience, but to convince the driver of its safety as well, and nurture trust between driver and machine.
Today's "horseless carriage" is becoming a central part of the internet of things. The vehicle is always on and provides a foundation from which drivers can connect with the digital world seamlessly. Mobile devices and cloud data ensure that the vehicle adapts to the needs of the passengers, offering people more flexibility and freedom in their daily lives.