Many routine, middle-skilled jobs involve relatively structured tasks, and robots are ideally suited for those jobs. A number of robotics manufacturers will be on hand at CES 2018, January 9-12 in Las Vegas, offering demonstrations of products. Here are a few of note.
Nidec
Motors, motors, motors in every size and shape. Nidec's focus at the show will be miniaturization,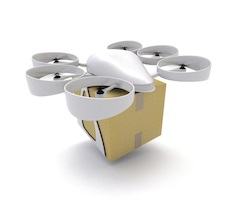 Nidec motors are used in drones. Source: Nideccustomization and efficiency optimization. Robotic arm modules and controllers for social robots, service robots and factory automation applications will be featured. In addition, there will be products for drones including various main motors used in aerial photography as well as in commercial and hobby applications, electronic speed controllers and camera modules. Haptic devices for use in car seats and steering wheels, housing facilities, appliances and game devices will also be showcased.
Egismos Technology
A manufacturer of laser-based light sources, Egismos' range of laser diode products comprises an extensive selection of laser diodes that include infrared laser diode, red laser diode, green laser diode and blue laser diode with various wavelengths, packages and output powers. Egismos' laser diodes comprise a wide range from 405 nm to 1,550 nm. Egismos also offers 3D technology that includes 3D data creation, 3D data display, 3D real-time interaction and standard 3D modules. A wide variety of 3D modules are offered to support system designers in the security, education, bio-medical and robotics application fields.
Harmonic Drive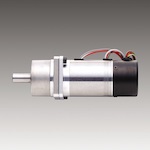 Harmonic's tiny devices can fit inside a robotic finger. Source: HarmonicSmall enough to fit inside the finger of a robotic hand, Harmonic manufactures tiny servo actuators that use zero backlash Harmonic Drive precision gears, a brushless servo motor and an incremental encoder. The RSF Supermini series is made to operate with a wide range of third-party drivers as well as Harmonic Drive LLC's DCJ series, DDP series, DEP series and HA680 drivers. RSF supermini actuators are cost-effective and integrate easily.
Makeblock
Kids who grew up to become engineers proficient with goodies from the likes of Nidec, Egismos and Harmonic likely enjoyed creating with building robotics kits as youth. Makeblock makes STEM, tech and DIY kits for all levels of students. Science, technology, engineering and math (STEM) disciplines can help prepare students for a workforce where success results not just from knowledge, but from what one can do with that knowledge. At CES, the company will demonstrate products geared toward helping children learn to code and build robots. The company isn't only geared toward children's products, however; the company works with Foster + Partners to help NASA create small scale robots that can navigate autonomously and collaboratively and determine when tasks are completed.
NextVPU
NextVPU is a start-up in artificial intelligence and computer vision. The company aims to bring vision capability to all robots, unmanned aerial vehicles (UAV), unmanned ground vehicles (UGV) and other smart devices, to create a new era of artificial intelligence. The company's AngelEye Smart Glasses assist the visually impaired, allowing them to perceive the world conveniently and enjoy safer exploration in an indoor/outdoor environment. The company also manufactures the Kepler Stereo Camera: a powerful, compact sensing device with high precision and low power consumption. Its applications include depth sensing, vision and IMU localization and motion tracking. It can be used in both indoor and outdoor environments.