The digital revolution brought much of the world's information within a few clicks of connected users. But with it came an information-driven economy and lifestyle, meaning that more and more time is spent in front of a screen.
Some illustrative statistics reveal a staggering rise in screen time within a short interval. According to the Pew Research Center, an average internet user spent 83 minutes per internet session in 2001. A 2015 report by communications watchdog group Ofcom found that adults in the U.K. spent an average of 9.9 hours online in 2005, and that this figure ballooned to 20.5 hours in 2014. According to a recent Nielsen report, U.S. adults spent nearly 11 hours a day at a screen in 2016, a full hour more than the previous year. With the proliferation of computers at the workplace, excessive screen time is now inevitable for most information workers.
The potential issues around excessive screen time revolve around the user's health, sleep and mental state:
MIT psychologist Sherry Turkle and others warn that excessive communication using smartphones is hurting users' ability to verbally communicate, feel and show empathy to others and connect with others on the whole.
Countless studies have found smartphone and computer use close to bedtime can cause sleep disturbances. An Oxford University study found 73 percent of users who used a smartphone before bed reported being more tired than those who didn't. The blue light emitted by screens suppresses melatonin, a hormone that aids in restful sleep.
Many information workers anecdotally report eye pain and strain as a result of screen use, sometimes on a daily basis. A device's high-energy visible (HEV) light wavelengths can cause irritation and possibly long-term damage to the retina. Other eye symptoms include irritation, dryness and blurred vision.
Studies have found that excessive recreational screen time is a possible factor in the uptick in mental health problems, especially in young people. In particular, young people who spend over two hours on daily recreational screen time experienced more negative self-judgment in terms of body image and self concept.
Escaping the Screen
In light of these negative effects, people are increasingly embarking on digital detox periods. During digital detox, a participant refrains from using any connected electronic device in an attempt to reduce stress and anxiety, regain focus and promote mindfulness.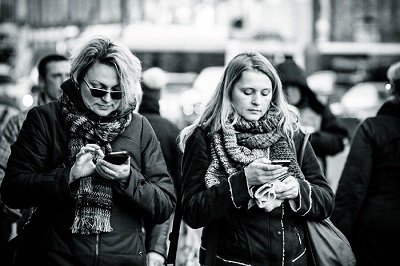 Growing concern over the effects of device addiction or dependence is leading to increased interest in digital detox. Source: Farhad Sadykov / CC BY 2.0While the statistics above take a decidedly negative spin, the effects of going into natural settings lend some positivity to the conversation. Numerous studies have found that spending time in nature, away from connected devices, results in less stress, anxiety and depression, and fosters a generally positive mood. A study in the British analytic philosophy journal Mind found that 95 percent of respondents reported that their mood became more calm and balanced after spending time outside, away from devices.
More Than One Way to Detox
Digital detox is inspired by the detoxification concepts in nutrition and addiction science. Like these other versions of detox, the digital type can be practiced in more than one way.
Digital dieting is likely the easiest way to partially detox — it simply involves cutting back on screen time and the distraction of devices. This can be accomplished by simply turning off notifications to better control screen time, establishing no-device times or cutting back or quitting social media to improve self-image and self-esteem.
The next step up from dieting is a 24 hour device detox period in which smartphones, computers, tablets and other devices are put away for a day. Many people find it easiest to schedule a day-long detox period on a weekend or holiday, since there should ideally be no work responsibilities during those times.
For those with the time and financial means, a full detox vacation can be a perfect opportunity for long-term detox. Most people undertaking a detox vacation travel to remote locations to reconnect with nature, but some seek out detox retreats. These events establish hard rules about putting away digital devices and often incorporate stress reduction activities like exercise, yoga and meditation.
Digital detox sounds simple and straightforward, but it is often much more difficult. A quick internet search finds stories about participants "cheating" while detoxing or forcing a friend or relative to physically confiscate their phones and computers. The concept of internet or technology addiction may seem like a severe generalization, but the struggle to resist notifications or the dopamine hit from checking Facebook during a detox may prove that the addiction theory holds water.