It wasn't too long ago that fiber lasers were relegated to low power milliwatt applications. Evolving from erbium-doped fiber amplifiers, these early fiber lasers had applications in communications but could not be scaled to the powers needed for material processing. With improvements in the technology and alternative dopants such as ytterbium for the fibers, tens of kilowatts of efficient laser power are now possible. These developments have led to fiber lasers offering the lowest price per watt with the highest beam quality, and the result is a quickly growing market share in material processing applications.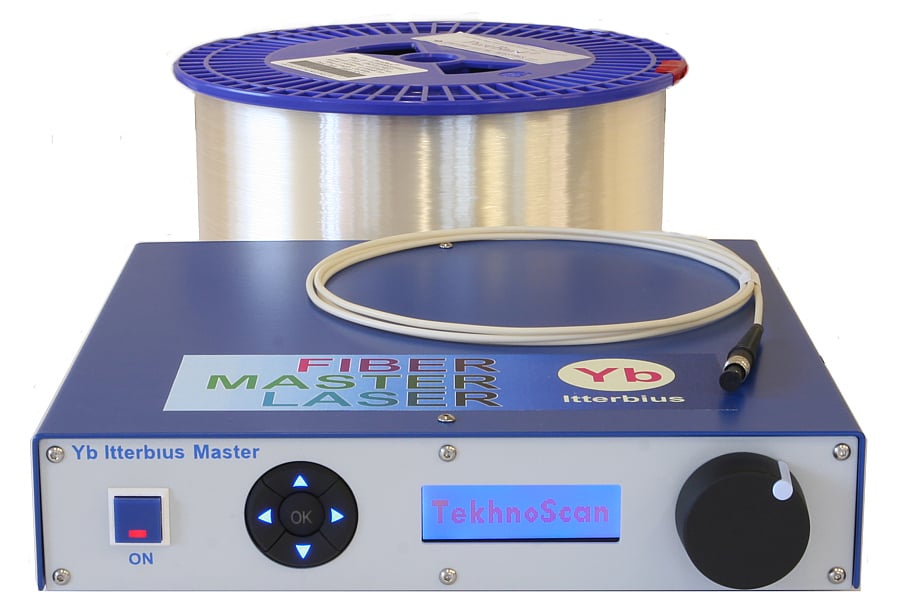 Fiber lasers are increasingly found in high-power applications. Source: Laser Systems Laboratory of Novosibirsk State UniversityA fiber laser is a laser in which the active gain medium is an optical fiber doped with rare-earth elements such as erbium, ytterbium, neodymium and others. The rare-earth dopants have a useful energy level configuration that allows for a cheaper diode laser pump source to be used to excite the medium. For instance, erbium can absorb photons at 980 nm, which then decays to a meta-stable state at 1550 nm. Once excited, like all lasers, stimulated photon emissions from the medium produces a coherent beam of light.
The diode laser pump source is convenient because it is cheap, efficient and can be stacked, which is to say that many diode lasers can be used to pump a single fiber laser with large amounts of power. This is achieved because the core of the fiber is surrounded by the cladding, and although the core is too small to effectively allow for many messy diode laser inputs, the cladding is not. So the diode laser beams are internally reflected in the cladding and also pump the core as they periodically pass through it. The result is efficient, but low quality; low power diode laser outputs are used to produce efficient, high quality, high-power fiber laser output.
The advantages of high-power fiber lasers are numerous. Since the lasing is occurring in the fiber, there is no need to couple the laser output to a fiber in order to direct it to where it needs to go. This removes the need for complicated optical setups. The laser output, being created in the relatively confined area of the core of the fiber, is high quality, meaning it is very straight and doesn't spread out. The power is confined to a small, distinct spot size, which is important for material processing where precision cuts are essential.
Due to the diode laser pumping fiber lasers are quite efficient, with around 70-80 percent power conversion, which means they are easy to cool since not nearly as much power is lost to heat as in other high power lasers. Diode lasers can last up to 1,000,000 hours, giving the fiber lasers long life. High peak power and long pulse durations make high-speed marking and cutting applications no problem. The lack of cooling equipment necessary and optics for coupling to a delivery fiber also make fiber lasers intrinsically light and easy to move.
The rapid improvement in high-power fiber lasers has caught the attention of industry manufacturers and material processors where adoption has ramped up the past decade. In markets once dominated by CO2 and YAG lasers, fiber lasers now represent over 75 percent of sales, and that percentage is growing. Within another decade the fiber laser market share is expected to top 95 percent rendering these older technologies effectively obsolete. Whether it's cutting, welding, brazing or cladding, it will most likely be a fiber laser that is used to generate the laser beam.