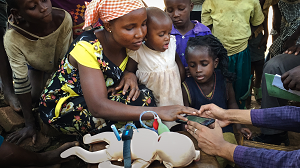 During a 2016 research trip to Africa, Johns Hopkins graduate student Mohit Singhalla allows a Ugandan mother to try out an early version of the NeMo system. Source: Polly Ma
After studying the incidence of newborns' deaths in developing regions where advanced medical care is not readily accessible, researchers from Johns Hopkins University developed the NeMo — Neonatal Monitoring — system. The combination of sensors and cell phone apps is designed to empower mothers with tools to assess a baby's health.
A small belt is fastened across the newborn's abdomen, along with a low-cost paper sensor strip that works in concert with the phone. The app software prompts the mother to respond to yes-or-no questions that focus on temperature, breathing and other health indicators such as reduced breast feeding or convulsions. A positive response triggers a direct referral to the community health worker.
Prototype versions of NeMo were tested in Uganda, and at the Johns Hopkins Hospital's neonatal intensive care unit.
The research team, which includes biomedical engineering faculty and graduate students, global health experts and technology specialists, will receive a $100,000 grant from the Bill & Melinda Gates Foundation. The grant will support continued development and testing of the NeMo platform.