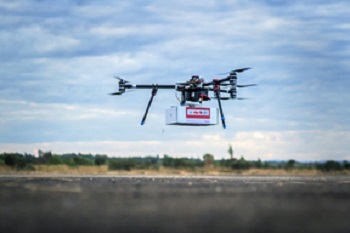 A drone carries a cargo payload box, which can potentially carry humanitarian supplies, at Kasungu Aerodrome in Malawi. (Source: UNICEF/UN070227/Chisiza)
An air corridor established by UNICEF and the Government of Malawi will be used to test potential humanitarian use of unmanned aerial vehicles (UAVs). The corridor is the first of its kind in Africa and one of the first globally with a focus on humanitarian and development use.
The 40 kilometer radius (80 kilometer diameter) project is centered on the Kasungu Aerodrome in central Malawi. It is designed to provide a controlled platform for the private sector, universities and other partners to explore how drones can be used to help deliver services that will benefit communities.
Pilot projects in the country have already tested the feasibility of using drones for the transportation of dried blood samples for early infant diagnosis of HIV, and to provide aerial footage to help assess the needs of communities affected by floods in February and April 2017.
The Humanitarian UAV Testing Corridor will facilitate testing in three main areas:
1. Imagery — generating and analyzing aerial images for development and during humanitarian crises, including for situation monitoring in floods and earthquakes.
2. Connectivity — exploring the possibility for UAVs to extend Wi-Fi or cell phone signals across difficult terrain, particularly in emergencies.
3. Transport — delivery of small, low-weight supplies such as emergency medical supplies, vaccines and samples for laboratory diagnosis, including for HIV testing.