Allegro MicroSystems LLC has introduced new 0 to 360 degree angle sensor ICs that provide contactless high-resolution angular position information based on magnetic circular vertical Hall (CVH) technology. Allegro's A1330 devices include a system-on-chip (SoC) architecture that incorporates a CVH front end, digital signal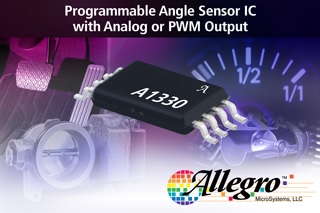 Allegro A1330 Angle Sensor. Source: Allegro MicroSystems LLCprocessing and either an analog or digital PWM output signal.
The A1330 is offered in both single and dual die versions for systems that require redundant sensors. They also include on-chip EEPROM technology, capable of supporting up to 100 read/write cycles, for flexible end-of-line programming of calibration parameters. Both devices are ideal for automotive applications requiring 0 to 360 degree angle measurements, such as motor position measurements for pumps and other actuators that require low latency and high resolution. The A1330 also includes on-chip scaling to support "short stroke" applications with as little as 11.25 degrees of motion, like valve position, pedal position and fuel tank level sensing.
The stacked die nature of the dual die assembly provides better channel-to-channel matching than more traditional side-by-side assembly techniques. This is a key parameter for safety-critical applications where the output of the two sensors is compared to ensure that the system is operating safely. Both the single and dual die versions of the A1330 are offered in a low profile, lead-(Pb)free, 100 percent matte-tin lead frame plated 8-pin TSSOP package.
Click here to download the A1330 0° To 360° Angle Sensor IC Datasheet.