Machinery
Eight Tips for Laser Etching Glass
30 November 2017
Sponsored content
Laser etching glass produces a sleek, frosted effect that looks great on all kinds of glass items. You can laser etch wine glasses, mugs, vases, wine bottles, and so much more.. Wineries breweries, distilleries, and custom glass companies often take advantage of laser engraving systems to engrave custom logos on their products. Bottles that already have liquid in them, like wine, can also be etched because as the laser gets hot, the heat doesn't build up easily. This is especially convenient for breweries and wineries looking to etch already-filled bottles.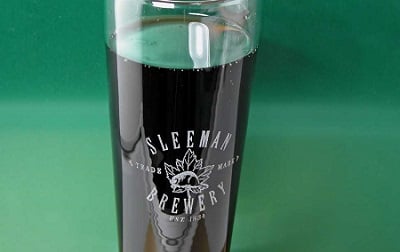 Figure 1: An example of a laser etched logo for a brewery. Source: Epilog LaserWhen a laser strikes glass, it doesn't etch deeply or remove material, but instead leaves a frosted appearance. However, while the frosted appearance looks great, the laser can sometimes cause roughness or chipping on the glass. The following tips will help you achieve the look and feel you want from laser etched glass while minimizing chipping and roughness.
1. Type of Glass
The first thing to think about before laser etching a product is what type of glass to use. Crystal doesn't work well for laser engraving because it contains a large amount of lead. Lead will retain the heat from the laser and won't produce a uniform engraving. You can try to engrave crystal, but you will have to go through a few test glasses first to find the correct settings, and even then it still might not produce perfect etchings. The composition and quality of any glass varies and you can't always predict the effect the laser will have on the glass. Always test a new kind of glass before you set out to engrave it for the first time. By testing first, you will know how the glass is going to react when you laser it, allowing you to adjust the settings accordingly.
2. Engraving Speeds
Flat glass tends to have consistent hardness throughout, so engraved areas won't have inconsistent light and dark spots. Bottles tend to have soft and hard spots that may cause the engraved area to appear lightly frosted in one section and heavily frosted in the other. In order to compensate for the discrepancies in some glass, you should engrave at medium speed with high power. This will somewhat compensate for the inconsistencies in the glass.
3. Lower DPI
Using a lower resolution, like 300 dots per inch (DPI), will produce a better result on glass because it engraves the dots farther away from each other. You won't be able to tell that the image being engraved was printed with a lower resolution, but it will produce a better result on the glass as well as preventing rough etched glass.
4. Grayscale
Epilog suggests that users etch on glass at 80 percent grayscale. This changes the black in the photo you're etching to a less intense shade. This trick will create a smoother result because the laser won't be engraving as deep as it would at 100 percent black.
5. Jarvis Dithering
Jarvis dithering is great for all engraving, including glass. Jarvis dithering scrambles the dots being printed onto the glass. This shortens engraving time and creates an image that looks like a high resolution image. This will provide a smoother finish, which lowers the chance your engraving will have any rough edges or chipping.
6. Masking
Masking is totally optional – some people love this trick, and others skip it completely. Masking involves applying a thin, wet sheet of newspaper or paper towel that is a little larger than the engraving area before engraving. This helps with heat dissipation, which can cause chips or uneven glass surfaces. Make sure that the paper is completely flat or your glass will not etch properly.
7. Dish Soap
Using dish soap is another trick that not everyone uses, but some people find helpful. Applying a thin coat of liquid dish soap over the area that is going to be engraved (like the masking trick) will dissipate the heat that the laser is producing, which prevents rough glass edges.
8. Polishing
This is a trick to use after you have actually engraved the glass item. If you find glass shards on the product after engraving, you can polish the engraved area with a ScotchBrite pad or similar product. This will get rid of those pesky glass shards once and for all. This is an important step to do if you are engraving something for a customer.
Hopefully, these tips and tricks will help you laser etch glass with confidence. Epilog has a web page dedicated to laser engraving glass where you can learn more or request info!
Find Free Electronics Datasheets