Machinery
Answers to 10 of the Most Frequently Asked Laser-Engraving Questions
13 March 2017
Sponsored content
When it comes to laser engraving, there are a lot of factors to consider. Aspects such as materials, quality, timing, graphics, and money play a pivotal role in successful laser engraving projects.
Epilog Laser Fans, or ELFs, are some of the most creative engravers around. The ELF page on Facebook has so many etching and engraving ideas and examples of the versatility of Epilog machines. In addition, the engravers are happy to offer expertise to newcomers.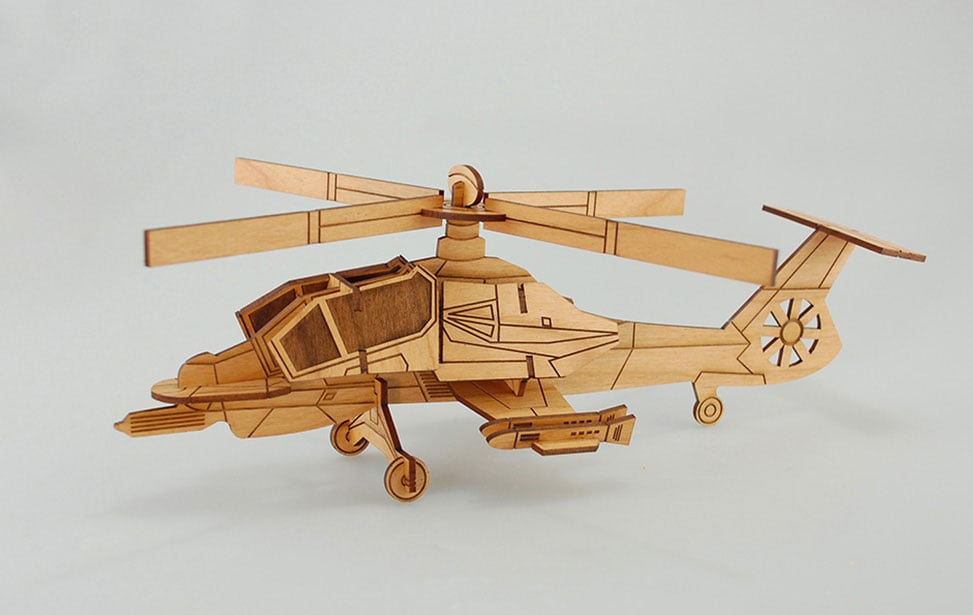 A wooden helicopter model engraved with an Epilog Laser.
In the designated and private Facebook group, as in many online community forums, users vent frustrations and ask questions, looking for guidance on some common issues that occur while engraving.
We took 10 of the most frequently asked questions to the Epilog Laser team and had the experts answer them.
What are some recommendations for solid hardwood engraving?

Mask the wood. Masking helps reduce residue from seeping into engraved areas and makes for easy clean up.
Use "bottom up" engraving. This is a feature in Epilog's print driver that allows users to engrave from the bottom of the design up, instead of engraving from the top down. It also helps reduce smoke and debris being pulled into the engraving area as the laser head moves.
Clean with Pledge, Simple Green or any citrus-cleaner.
I'm a little nervous about etching glass! Any suggestions?

First, remember that not all glass is created equal. While you may think you need more expensive glass to get a great engraving, that's not always the case. Many of our customers use glassware from restaurant suppliers or dollar-discount stores, both of which engrave beautifully.

We've also developed the following tips that help ensure a nice, frosty engraved finish:

• Using a lower resolution, around 300 DPI, produces a better result on glass as you separate the dots you are engraving.
• Change the black in your graphic to 80% black to improve the engraving quality.
• Running with a Jarvis dithering pattern in the driver (you'll find this under the raster speed and power settings) will also help provide a smoother finish.
• Some people find that applying a thin, wet sheet of newspaper or paper towel a little larger than the engraving area also helps with heat dissipation and improves the engraving. Just be sure that there are no wrinkles in the paper after it is applied.
• Using your finger or a paper towel, apply a thin coat of liquid dish soap—any kind will do—over the area to be engraved. That will dissipate the heat when engraving.
• Polish the area with a ScotchBrite pad or something similar to eliminate shards of glass.
What are some tips for engraving on plywood or balsa?

This material is cut with a laser more than it's engraved. For engraving, we'd suggest starting with the recommended wood engraving settings in our manual. Plywood can be tricky and inconsistent in terms of cutting, due to the various layers of glue found within it. Balsa seems to cut very nicely and many of our customers use this medium to build various types of models.
I'm thinking of expanding my business to engrave leather. Will that be difficult?

Not at all—leather engraves and cuts beautifully with a laser! Some of our users custom etch leather journals, coasters and much more.
What are the best settings for engraving on leatherette?

This is going to depend on your machine and wattage, but we'd start with the recommended settings for "leather" in Epilog's user manual. When in doubt, start with a relatively high speed and low power. If you don't move the item being engraved, it is easy to add a little more power or reduce the speed and run the job again until you get the look you want.
I hate to waste materials. What cool projects can you create with scrap pieces from other projects?

Scrap materials are great not only for creating new projects, but using as practice pieces for more challenging engravings, such as photographs. We've seen customers make all kinds of things from scrap, such as small acrylic edge-lit signage, ornaments, name tags, and lots more!
I have a Mac. Can I use it with my Epilog Laser?

Epilog systems run off any Windows-based graphic design software, so most of our customers elect for a PC and CorelDRAW. Die-hard MAC users typically use Parallels or Bootcamp to power the lasers from their systems, or simply purchase an adequate PC and dedicate that machine only to the laser.
Any tips for proper maintenance? How and when should I clean my Helix or Mini?

Epilog provides a maintenance schedule outlining what maintenance activities to do and how often to do them. We also cover basic maintenance in our manuals. The biggest piece of maintenance advice is to keep your system clean, especially the optics. Clean optics help ensure that your laser produces the most precise engraving and cutting results.
Can I maximize my laser investment with apparel applications?

Absolutely. Epilog systems can both cut and directly etch all kinds of fabrics. We've seen users engraving fleece pullovers, leather jackets, aprons, napkins, and more.
Can you recommend inexpensive substrates I can play around with?

This is where scrap materials come in very handy for testing speed and power settings, experimenting with different resolutions, etc. Many of our users go to the big home improvement stores for inexpensive wood and tile (ceramic, marble, etc.) to test and play around with. Additionally, "dollar store" retailers often have glassware (pint glasses, wine glasses, beer mugs, etc.) that engrave beautifully.
Be sure to join in the creativity on social media: #CreateWithEpilog
Find Free Electronics Datasheets