The Techman Robot TM5, which has integrated visual recognition, is set to appear at the International Robot Exhibition in Tokyo this week. The latest model of the collaborative robot combines smart visual recognition and force sensors with a mobile cart that can be repositioned rather than tied to a production line.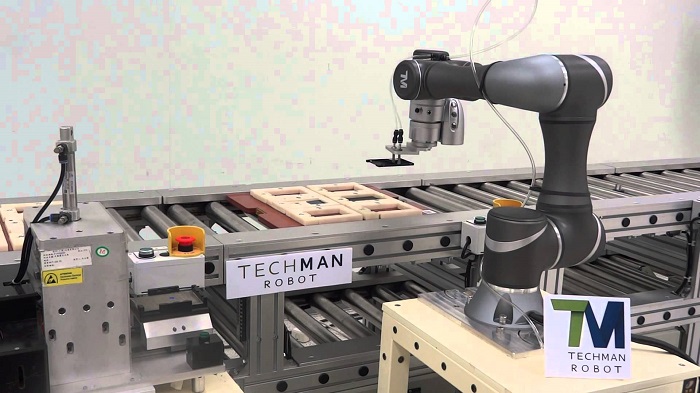 The Techman Robot TM5 (Source: Quanta Storage)
A collaborative robot is similar to the human arm, and the force sensor and gripper to human fingers. "Eyes" are supplied by TM's proprietary smart vision system. The TM5 equipped with force sensors and grippers can use TM's proprietary vision system for positioning. Complex components, such as DRAM memory, can then be put together using a degree of force similar to human fingers. Quanta Storage, the company behind the Techman industrial robot, told DigiTimes.com this September that it is aiming to ship 1,000 collaborative robots this year.
Smart vision can overcome small differences in product placement, and a range of application solutions can be quickly integrated with existing production line equipment. TM's 3D Landmark function provides the TM5 with the ability to identify shifts in individual work stations and re-calibrate, resulting in fast production line changes and highly flexible production.
Smart vision is also used to recognize screw holes and tighten screws. Real-time alerts on assembly problems, such as screw slipping or stripping, can be sent. Data obtained through barcode scanning — including the barcode content, screw fixing and inspection information — is sent to the cloud for analysis, in order to help optimize quality control and make production more efficient.