In the home, medical facility or construction site, a robot companion can be invaluable to perform tasks a human is unwilling -- or unable -- to do. Toyota Motor Corp. this week revealed T-HR3, the company's third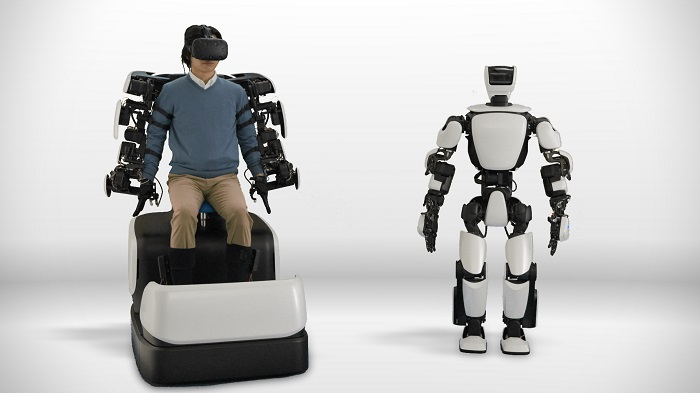 Toyota's T-HR3 is designed to help provide improved mobility to humans.generation humanoid robot. Toyota's latest robotics platform is designed to help to meet people's mobility needs. T-HR3 evolved from previous generation instrument-playing humanoid robots, which were created to test the positioning of joints and pre-programmed movements.
The Partner Robot team developed core technologies for this platform that will help advance future development of robots to provide humans improved mobility.
The T-HR3's Master Maneuvering System lets the entire body of the robot be operated instinctively with wearable controls that map hand, arm and foot movements to the robot, and a head-mounted display lets the user see from the robot's perspective. The operator has full range of motion of the robot's corresponding joints and the master foot allows the operator to walk in place in the chair to move the robot forward or laterally. To ensure the robot and user do not disrupt each other's movements, Self-interference Prevention Technology is embedded in the robot.
A number of systems are built into the robot to ensure its balance and maneuverability as well as control the force of contact the robot makes with any individuals or objects. Those functions have implications for future robotics research and development, particularly for robots that operate in environments where they must safely and precisely interact with their environment.
Toyota has a history of developing industrial robots to enhance its manufacturing processes going back more than 30 years. Partner Robot has taken the lessons learned and combined that knowledge with Toyota's expertise in automotive technologies to develop new mobility solutions that provide assistance to doctors, in addition to caregivers, patients, the elderly and people with disabilities.