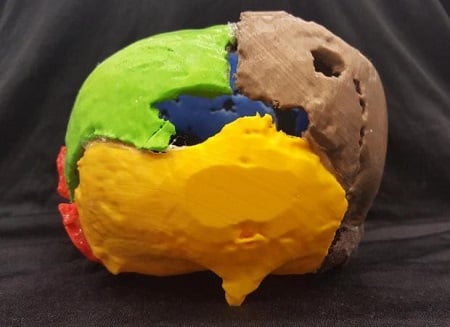 Gorm the Old's 3D-printed cranium, seen from behind. Note the "bird's beak" protrusion at bottom. Source: A 3D print of bones from Gorm the Old; Source: Marie Louise Jørkov
"I can't deny that I've played Hamlet with his skull," says Adam Bak, curator at Kongernes Jelling, National Museum of Denmark.
Bak is referring to bones from Gorm the Old, the first to call himself king of Denmark, and the first to use the name "Denmark" for the country he ruled over until his death in 958 C.E. Those bones have been reconstructed and printed in 3D.
"From a pure science communication perspective, it's so much better to have a 'real' bone in your hand than to read a dry text about a historical person," says Bak, who facilitated the reconstruction.
Gorm's bones were first discovered under the floor of Jelling Church in 1978. Archaeologists from the National Museum of Denmark studied them and made a CT-scan before re-burying them in 2000. But the resolution of the scans was insufficient to draw specific conclusions on many aspects of the Viking king.
Now, however, 3D scans have allowed scientists to adjust for the pressure damage occurring after burial including a flattening of the skull. "You can print the bones one to one in 3D, which makes it possible to display the bones," says Marie Louise Jørkov, a Forensic Pathology postdoctoral researcher at the University of Copenhagen. "We can then re-analyze the skeleton and study the bones to look for any signs of disease, which can't be seen at the surface."
One surprising find: A "bird's beak" lump on the king's neck, where it meets the back of the head. In medical terms, this phenomenon is known as an external occipital protuberance, and is caused by bone overgrowth. Carsten Reidies Bjarkam, a neurobiology professor at Aarhus University, Denmark, says that such a growth could be the result of a load on the muscles and ligaments that connect to the protrusion.
"It can be best compared to a bunion, which is also a response to a sustained load. The bone simply grows more at that spot than is normal. It's a normal reaction, which has gone overboard in his case," he says. Most likely, he adds, the growth would not have caused serious symptoms or had any effect on Gorm's brain function or movement — although it was probably painful to sleep on.
Gorm's bones have since been reburied under the Jelling Church.