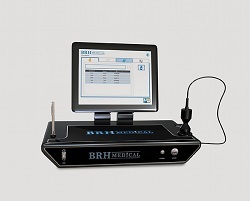 Source: BRH Medical
BRH Medical, a company based in Jerusalem, Israel, won U.S. Food and Drug Administration clearance for its BRH-A2 system that uses ultrasound and electric fields to heal deep and chronic wounds.
The technology reduces pain and facilitates healing of deep wounds by engaging and stimulating the wounded region from below the wound bed using both modalities. The ultrasound system is designed to work together with the electric fields to affect the tissues and muscles in the region of and below the wound. This combination varies in frequency and intensity over the course of the treatment.
The non-invasive BRH-A2 System can be used together with any treatment modality, and its portability permits its use in clinics and hospitals. It features intuitive software for ease of use and is the only one of its kind to include an integrated patient and wound management system.