A near-supersonic train similar to the Hyperloop system being advanced by Tesla and SpaceX has been designed by researchers from Ulsan National Institute of Science and Technology (UNIST) in South Korea. The U-Loop is expected to reduce travel time between Seoul and Busan from 2.5 hours to less than 30 minutes.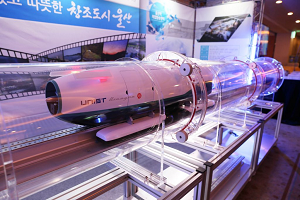 The U-Loop prototype. Source: UNIST
The transportation system borrows some technology from the Hyperloop project, such as a massive vacuum tube, magnetic levitation and linear electric motor. The prototype maintains a 1/1000 atmospheric pressure vacuum in the tube in order to reduce air resistance under actual driving conditions. Permanent magnets are used for magnetic levitation and for propulsion, and linear induction motors are deployed instead of general rotating motors.
Researchers will next consider using either superconducting magnets or regular electromagnets for the precise levitation control. The team expects to use linear induction motors to propel the train at a high speed.
A prototype of this new transport capsule was displayed and tested at the 7th International Public Transportation Forum on Oct. 26, 2017.