LeydenJar Technologies BV, a spin-out from Dutch energy research center ECN, has produced a pouch-cell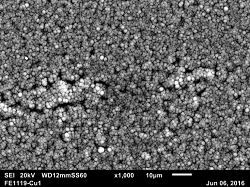 The 100 percent silicon anodes are created directly on copper foil. Source: LeydenJar Technologies BVprototype lithium-ion cell using pure silicon anode technology developed at ECN. The storage capacity of rechargeable li-ion batteries can be increased by 50 percent with this fabrication method.
The nanostructured silicon anode features a silicon pillar porous structure enabling mechanical stability. The researchers report achieving 100 cycles at a constant capacity of 1.000 mAh/g with the prototype, and the development of li-ion coin cells that cycle at high capacities (between 1.000 and 2.000 mAh/g) with 400+ (ongoing) cycles. Replacement of graphite anodes with pure silicon anode technology can have a significant impact on the energy density of current-chemistry li-ion batteries.
The technology will be further developed in two tracks: first as a pouch-cell prototype with a targeted energy density of 1.200 Wh/l or 480 Wh/kg, and then as a faster PECVD tool to demonstrate semi-commercial production rates.