As the performance of silicon-based power electronics nears maximum capacity, wide bandgap (WBG) semiconductors emerge as a more energy-efficient option. These devices have evolved as leading contenders in developing field-effect transistors (FETs) for next-generation power electronics.
Diamond is the most ideal material in WBG development, due to its physical properties that allow devices to operate at much higher temperatures, voltages and frequencies, with reduced semiconductor losses. However, challenges in increasing hole channel carrier mobility – related to the ease with which current flows -- have undermined the use of diamond in developing metal-oxide-semiconductor field-effect transistors (MOSFETs)
An international team of researchers exploited the deep-depletion regime of bulk boron-doped diamond MOSFETs to tackle this problem. The method, which yields simple diamond MOSFET structures from single boron-doped epilayer stacks, increases the mobility by an order of magnitude.
A layer of aluminum oxide was deposited at 380 degrees Celsius over an oxygen-terminated thick diamond epitaxial layer. Holes were then created in the diamond layer by inclusion of boron atoms to enable the bulk epilayer to function as a thick conducting hole channel. The transistor was switched from the on-state to the off-state by application of a voltage which repelled and depleted the holes -- the deep depletion region.
In silicon-based transistors, this voltage would have also resulted in formation of an inversion layer and the transistor would not have turned off. The researchers demonstrated that the unique properties of diamond, and in particular the large band gap, suppressed formation of the inversion layer allowing operation in the deep depletion regime.
The proof of concept should advance the use of diamond for MOSFET applications.
Scientists from University Grenoble Alpes (France), CNRS Inst. NEEL (France), Université de Toulouse (France), The University of Cambridge (UK), University of Tsukuba (Japan) and Institut Universitaire de France participated in this research.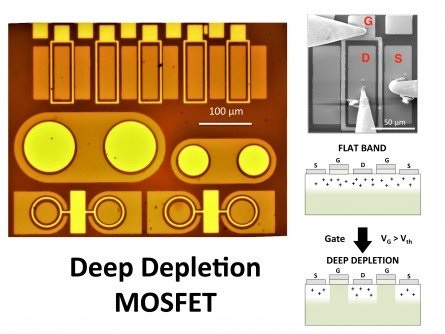 Left: Optical microscope image of metal oxide semiconductor capacitors and diamond deep depletion MOSFETs (D2MOSFETs) of this work. Top right: Scanning electron microscope image of a diamond D2MOSFET. Bottom right: D2MOSFET concept. (Credit: Institut NÉEL)