Microsoft rose to prominence in the 1980s and '90s behind their software solutions, specifically their Microsoft Windows operating systems (OS) and their Microsoft Office Suite of products that included Word, Excel, Access and PowerPoint, as well as some other, less popular programs over the years.
Microsoft's founder Bill Gates and early Microsoft employees became the symbol of tech wealth as these products took off due to the low-margin nature of their business. Once the OS and programs had been developed, the only costs were marketing and creating the inexpensive compact discs (CDs) that allowed the user to install the program on their computer. Microsoft, building off of Windows' success, saved money on marketing by bundling its programs with the operating system, creating a dependence among its users, whether they were the best programs out there or not.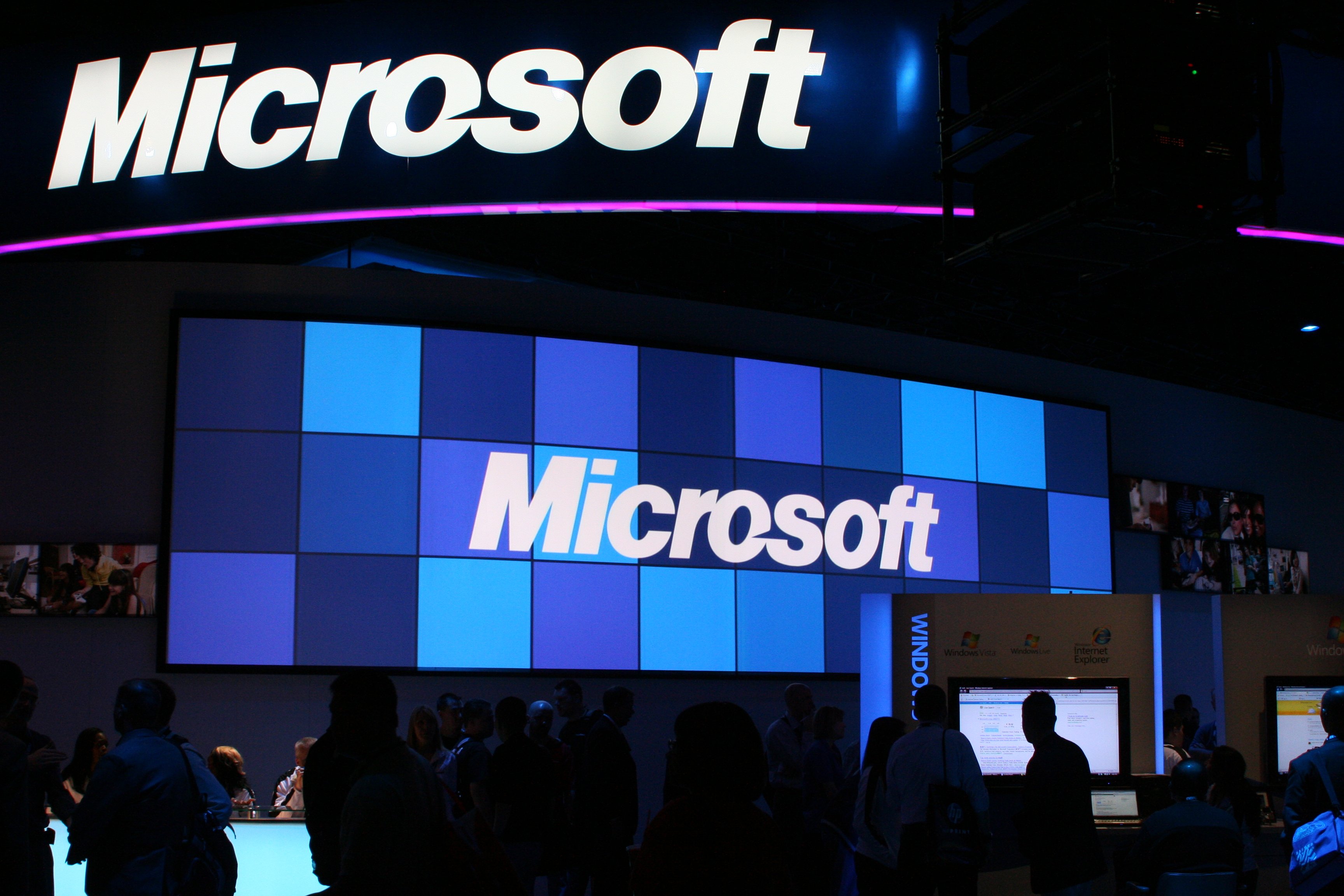 Microsoft Booth, CES 2009. Source: Ben Franske / CC BY-SA 4.0As Microsoft essentially had a monopoly on business solutions in the 1990s, they could charge whatever they wanted and there was little pressure for innovation. The result was a business cycle of two to three years where new OS and Office products were released. When the new OS or software product was good, users were happy, Microsoft made a lot of money, and everyone won and few complained about Microsoft's pseudo-monopoly.
The Windows 95 business cycle was a prime example of this. Windows 95 featured significant improvements over Windows 3.1, most notably with the introduction of its "Plug and Play" features for simplifying the installation of new hardware. A few years later Office 97 was released and was a major improvement over previous versions of Office. These two major hits increased Microsoft net profits from 1.5 billion in 1995 to 3.4 billion in 1997. Microsoft followed up its successful Windows 95 with Windows 98 in 1998, another successful OS that resulted in happy customers and higher profits. By 1999, Microsoft net profits had reached 7.8 billion, roughly 500 percent growth in four years.
Despite the happy customers, record profits and the corresponding stock euphoria, warning signs had already started to appear in their business model. Microsoft did not anticipate the importance of the internet until some internet browsers were already established, failing to exploit their bundling advantage to grab early market share. In 1995, Microsoft released Internet Explorer (IE) as a purchased add-on to their Windows 95 system. Users turned to Netscape instead, a browser established in 1994, and over the next two years Netscape dominated web traffic.
Microsoft quickly realized its mistake and started bundling their less effective browser with newer copies of Windows 95, trying their best to force users to adopt it. In what has come to be known as the first browser war, Microsoft grabbed back market share within a year, crushing Netscape. However, it was a pyrrhic victory because IE was clearly a less effective browser, which angered the users essentially forced to use it. Microsoft's actions were so obviously monopolistic that governments started to intervene, which began to open the market for other software solutions.
Weakened by its victory, Microsoft sought to reestablish its dominance with its OS and for a while, it worked. However, the disastrous Windows ME, released in 2000, was so bad many companies refused to upgrade to it, leading to a dead cycle where net profits plummeted from 9.4 billion in 2000 to 5.4 billion in 2002. Windows would eventually recover, but the door had been opened for software alternatives, particularly related to graphics and the internet.
Mozilla Firefox was released in 2004 and gradually grabbed browser market share until it peaked at 32 percent in 2009, making it at the time the world's most popular browser. Meanwhile, Google, a search engine created by two Ph.D. students at Stanford, enjoyed massive growth throughout the 2000s. Once again Microsoft tried to use its clout as the dominant OS manufacturer to steal back browser market share and search market share. Microsoft launched Bing in 2009 to general indifference and continued to lose ground in browsers with Google's introduction of Chrome in 2008.

Although Microsoft still enjoyed a successful OS business and its Office suite of products was as strong as ever, by the early 2010s it had lost the ability to leverage its core business to protect its products. What was worse, the software business was starting to fundamentally change. Slowly CDs were giving way to downloads, led at first by the browser downloads. With the introduction of the Apple iPhone, a brand new way of purchasing software was introduced: the App Store. Windows attempted to penetrate this market but ended up watching from the sidelines as Google and Apple fought for mobile users.
Meanwhile, in 2006 Amazon created Amazon Web Services (AWS), on-demand cloud computing platforms for individuals, companies and governments on a paid subscription basis. By 2007, 180,000 developers had signed up to used AWS. AWS reduced the overhead for small software companies and cloud computing took off. The natural next step was for software companies to utilize the cloud to at first provide a download point for their software and later automatic upgrades. A similar evolution in software was occurring in the app systems of Google and Apple. The old paradigm of two to three year software upgrade cycles was dead.
Microsoft continued to do profit from their OS dominance, but the growth had stalled. They had become the dinosaur of tech, constantly playing catch-up to new innovations. In early 2014, CEO Steve Ballmer resigned and was replaced by Satya Nadella, former executive vice president of Microsoft's cloud and enterprise group. The board had grown tired of Microsoft constantly falling behind in the industry and wanted to transition quickly to a subscription-based model. Microsoft had already started doing so with the introduction of One Drive in 2007, Azure in 2010 and Office 365 in 2011. Still, the company had done a poor job marketing these products and adoption was slow. Under Nadella's leadership, more focus was given to cloud-based products, leading to Office 365 revenue overtaking conventional licenses this year. Microsoft has finally embraced the new software subscription model with success.
In the 1980s and '90s, Microsoft was the symbol of the tech revolution. Their operating systems and office suite, delivered on CDs for installation every few years, were extremely profitable. Success breeds complacency and Microsoft failed to anticipate the importance of the internet, internet search, mobile computing and finally cloud computing. In the 2000s they were the tech dinosaur that became the punchline to badly working software.
Realizing their error through the mid-2010s, they have pivoted successfully, reclaiming market share for their browser IE and their search engine Bing, while embracing subscription-based software. Thus repositioned, their stock — famous in the past decade for its stagnation — has tripled in the past four years, once again a major part of a successful tech portfolio. As always, the future of tech is unclear, but at least for the first time in a long time Microsoft is well-positioned for it.