Laundry machines that play classical music when a cycle ends. Refrigerators that send their owners a message to alert them that the milk supply is low. How about a connected scale that ensures a perfect margarita by sending the recipe to a smart phone and weighing the amount of each ingredient as it is added? The ever-burgeoning selection of smart appliances presents a consumer with a confusing welter of terminology—what exactly is "smart" supposed to mean?—and features.
Microwave ovens are starting to get smarter, somewhat after the advent of other appliances. Prognosticators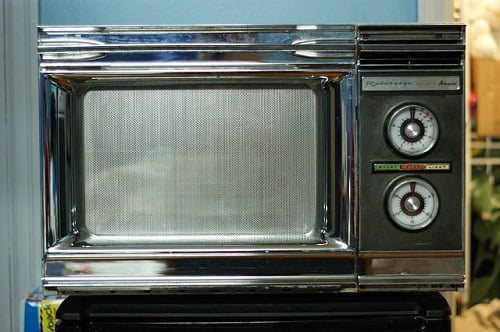 1971 Amana Radarange microwave oven. Source: Wikimedia/CA BY SA 4.0 expect significant growth in this mature market. According to Technavio, the market for microwaves should grow 28 percent between 2015 and 2019, driven by the emergence of smart homes and growth of the internet of things. An increase in discretionary income and a taste for built-in appliances are additional market drivers.
What makes a microwave, or any appliance, smart? Writing for the website Reviewed.com, Christopher Snow commented that "each company also has its own word-soup of apps, standards, modules, hubs and brands that might make the appliance smarter, but can certainly make a layman feel dumb." Connectivity to the internet of things is not the only criterion for intelligence; some have higher IQs than others described below.
Several ovens know how long to cook commercially-frozen food. For example, Whirlpool has a model that extracts heating instructions from a database of frozen food (the user scans the package's bar code to do this) and sends them to the oven. The idea of scanning a bar code to find cooking instructions is not new. The U.S. Patent Office granted U.S. Patent 6124583 A for a bar-code reading microwave oven in 2000, and various models have come online since 2013.
Ovens with a wider array of more sensitive sensors not only do a much better job cooking and defrosting; some prepare foods not typically associated with microwaves. LG's NeoChef is a smart inverter oven that grills and deep-fries as well as defrosts and reheats.
Some manufacturers' appliance lines can communicate through iOS, Droid, Alexa, Dash, Nest and Google Home, although few work across all of these platforms. Microwave ovens are mostly waiting in the wings for their upgrades. Both GE and Whirlpool are building WiFi into appliances, and Whirlpool recently filed with the Federal Communications Commission for a new model that enables the oven's owner to send a command via smart phone to turn the oven on. When cooking finishes, the oven sends a message back. Cross-appliance communication could make coordinating meal preparation much easier. For example, the microwave might defrost a chunk of meat and turn on the conventional oven to preheat when defrosting is finished—and then send an alarm to the cook reminding him to transfer the rib eye from one appliance to the other.
One of the most intriguing entries into the world of smart microwaves is a newcomer to the appliance world: MAID, which is more than just a microwave oven.
MAID—an acronym for Make All Incredible Dishes—is a combination microwave, convection and top-heating oven. The manufacturer, SectorCube, describes its appliance as a "learning" oven. It will start recognizing the cook's favorite dishes and suggest recipe changes. MAID also has a "Recipe Store," a curated, crowd-sourced collection of dishes that MAID already knows how to cook. A web connection keeps the store updated. The cook does not punch in cooking times; just tell the oven the recipe and it will cook the food to perfection. The MAID app is even more intelligent: the personal activity tracker will calculate a healthy diet and adjust recipes as needed.
One feature conspicuously missing from all microwave ovens is a camera. AEG, the German branch of Electrolux, introduced a non-microwave oven with a camera that streams video of the oven contents to the cook's cell phone. Will this one spy on the owners? No word on that so far.