A new fiber optic technology developed by an international team of researchers detects gases with high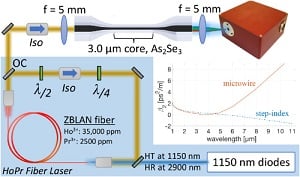 Layout of the laser cavity and the subsequent supercontinuum generation stage. Source: Macquarie University/McGill University/Université Lavalsensitivity and may be of value in applications as diverse as climate change research to medical settings.
The device couples an invisible infrared laser to an ultra-broadband supercontinuum generator. This is the first time these components have been combined to form a single optical system. A fiber laser engineered to emit infrared light in extremely short bursts (180 millionths of a nanosecond) was used to fire laser pulses into a special type of microwire fiber.
"The resulting supercontinuum performance of the new fiber optic technology matches the best performance from large laser systems, but in a package that could one day fit in the palm of your hand," said Associate Professor Alex Fuerbach from Macquarie University, Australia.
"While previous research has led to ultra-broadband supercontinuum sources, we've managed to squeeze this technology into a system that can be completely fiber integrated—termed an "all fiber" system—protecting it from outside influences and making it much easier to use in an array of scientific and medical situations, including operating in harsh environments," explains lead researcher Dr. Darren Hudson, also from Macquarie University.
Potential applications include breath analysis for early disease detection, environmental monitoring for emissions, climate change monitoring and in industrial settings where fracking and mining are taking place.
Researchers from McGill University and Université Laval, Canada, also participated in this study.