As a firm comprised of veterans from Apple, Google, Amazon Lab126 and other tech industry giants, Afero is well-poised as a developer of encryption and authentication technologies designed for internet of things (IoT) security. We told you recently about their Modulo-2 development kit. We also had an opportunity to ask a few questions of Afero's founder and CEO, Joe Britt.
Electronics360: I understand that the Afero platform is designed to provide secure connectivity for IoT. How big a problem is security when it comes to "smart" devices?
Joe Britt: Security is the primary concern when it comes to IoT, for both businesses and consumers. IoT is an end-to-end kind of technology, and so is security. We believe creating secure IoT is really the grand challenge of the digital age. Meanwhile, everyone — manufacturers and consumers — want smart things: homes, appliances, cars, roads, cities, healthcare and on and on. So there is a pent-up demand for well-engineered IoT solutions, but progress is hampered by a few things. Security is at the top of that list. That includes concerns about privacy issues and rights management and, ultimately, trust in your digital proxies. We believe it is our responsibility to create a platform that makes IoT trustworthy for users, resulting in user confidence and unclogging the IoT pipeline.

E360: Do you think we'll see more network attacks as IoT devices continue to proliferate? Is it safe to rely on the government to establish effective, industry-wide security standards?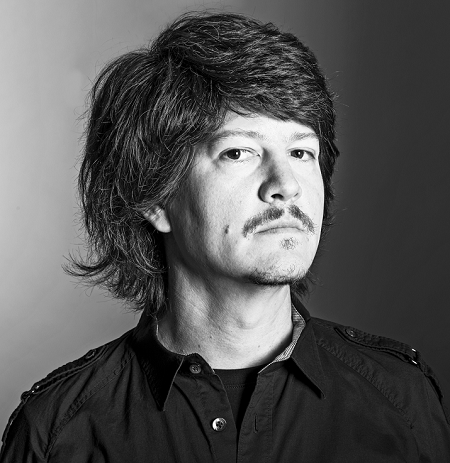 Joe Britt, founder of Afero. Source: Afero
JB: The proliferation of connected devices greatly expands the attack surface. The fact that most of them are not secure adds vulnerability. So now you have a massive and vulnerable attack surface which is just an ideally attractive target for the bad guys. So, yes: we should expect more attacks occurring, unless we take steps now to realize that security is really non-negotiable going forward. And it has to stretch all the way across the IoT spectrum.
IoT continues to grow, but the strategy for us is to stay several steps ahead of those threats by making security our primary focus. There is a lot of good work being done in the industry and through government agencies. Those efforts are excellent and deserve encouragement, gratitude and proper funding. But we also think technology companies like us are exposed to the reality of IoT deployments and must translate that perspective to new technologies and standards.
E360: There are other providers of secure IoT platforms. What sets Afero apart from the competition?
JB: I believe all vendors do good work based on the perspective they bring to the table and the mix of technologists they can assemble. In our case, we have focused on security, end-to-end integration and a simplified business model. That has meant assembling a team that has deep engineering expertise: from mobile device technologies to development environments and productivity tools, to cryptography to data science to artificial intelligence to blockchain to cloud computing. They don't always speak the same language, so having them under the same roof and working out integration issues while engineering in security has been an incredibly important achievement. The result is something really unique in the market: A fully integrated platform that is easy-to-use and secure by design.
It's also a technology that directly impacts products that businesses use in their facilities and supply chains, and consumers use in places like their kitchen or car or gym. That has a giant impact on improving productivity, reducing escalations, maintaining financial transparency and reducing the technical and financial risk of blending information technology (IT) and operational technology (OT).
To single out developer productivity, for example: It's important for the continued proliferation of IoT that developers who don't have in-depth knowledge of embedded, mobile or cloud programming or cybersecurity can easily use the Afero platform to jump-start their projects.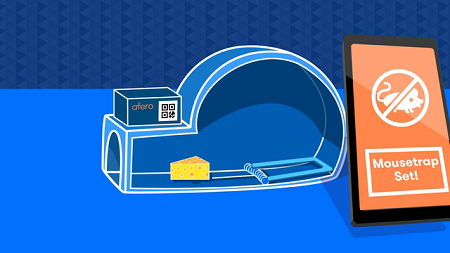 Video screenshot: Turning a mechanical mousetrap into a connected device. Source: AferoE360: I watched a video on the Afero site in which a software engineer used the Modulo-2 development board to turn an ordinary mechanical mousetrap into a connected device. It can't really be that easy, can it? Could your typical home user do this, or would it require someone with an engineering background?
JB: I am so glad you had a chance to see that video. Yes, that is exactly what we have set out to do. Removing mysteries and boundaries and complexities is really the name of the game in new emerging technologies like IoT. We have users doing things like you saw in the video every day. And what's really cool is that once they do it, they can apply it in other places and reuse what they did before. That has a cumulative positive impact, a multiplier kind of thing. You should also check out the work we are doing with our partner Microchip, which is designed to give end users and the developer community easy access to the technology, too – it's not meant only for the big companies that we work with.
E360: Tell me a little more about your background, and what prompted you to create Afero.
JB: I started out at Apple over 25 years ago, which was a very formative period in technology itself, and went on to 3DO, Catapult Entertainment and WebTV. Those were great experiences, and a front-row seat in terms of how to bring together in a single product a variety of capabilities: ease of use, design, user experience, content, entertainment ... and also how the front-end, middle and back-end had to be built to deliver a real solution.
In 1999, I co-founded Danger Research. Do you remember the excitement that the T-Mobile Sidekick smartphone created? Well, that was our product. It represented not only a labor of love but also groundbreaking technology that helped shape the smartphone market. After Danger was sold to Microsoft, I spent time working at Google on Android hardware. Both of those roles were a reinforcement of the picture that had developed for me earlier, which basically comes down to this: how to do big things well.
Moving into IoT was a very logical step for me in that regard. The ability to make an impact on such a wide variety of products and industries with the Afero platform has been very exciting.