Mouser Electronics, Inc., is now stocking the ADuCM3027 and ADuCM3029 ultra-low-power microcontrollers from Analog Devices. The ADuCM302x series microcontrollers have a high ULPBench™ certified score of 245.5 points and are designed to enable longer battery life and lower operating costs in internet of things (IoT) applications while maintaining security and reliability.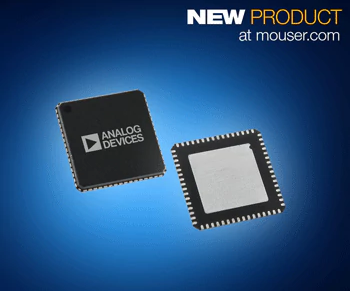 The new device from Analog Devices, now stocking at Mouser Electronics (Mouser)
Analog Device's ADuCM302x microcontrollers are powered by a 32-bit Arm®Cortex®-M3 processor with 128 kBytes (ADuCM3027) or 256 kBytes (ADuCM3029) of on-chip flash and 64 kBytes of SRAM with parity. Engineers can configure the Cortex processor to achieve the right balance of performance and power.
Consuming less than 30 μA/MHz of current in active mode and less than 750 nA in standby mode, the microcontrollers enable longer operation between battery replacements or recharging. This provides lower maintenance cost and a better end-user experience. This can reduce costs for the device makers by decreasing the number and size of the batteries that were required. This also enables new applications where battery replacement is impractical.
The ADuCM302x devices have a combination of hardware and software protection mechanisms that enable faster encryption and provide read-protection to prevent the device contents from being read by unauthorized users. In-circuit write protection prevents the device from being reprogrammed with unauthorized code. Voltage monitoring in standby mode and error correction for the flash memory increases reliability by avoiding the corruption that might result in system crashes.
The ADuCM302x microcontrollers complement Analog Devices' broad portfolio of compatible sensing and wireless communication technologies. The portfolio is supported by software and hardware development tools that help engineers optimize solutions for their application needs.
To learn more about this device, visit the Mouser site here.