A long-life, flexible supercapacitor was developed at Queen's University Belfast as a power supply for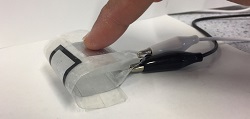 The supercapacitor could be a flexible, organic alternative to the rigid batteries that power-up medical implants. Source: Queen's University Belfastpacemakers and other implanted devices. The supercapacitor is viewed as an alternative to rigid batteries that must be routinely replaced.
Biocompatible and non-flammable electrolytes and organic composites were used to fabricate the device. Conducting polymer-biopolymer composites serve as durable electrodes and ionic liquids function as safer electrolytes. The supercapacitor also decomposes easily, eliminating costs associated with recycling or battery disposal.
These flexible supercapacitors show specific capacitances of around 5 mF g−1, an operational voltage of about 2.2 V and an excellent cycle life of exceeding 15,000 cycles with nearly 100 percent efficiency.
The researchers suggest the ultrathin supercapacitor could also find applications in wearable electronics and portable electronic devices.