Stretchability and compressibility of supercapacitors are essential elements of modern electronics, such as flexible, wearable devices. Widely used polyvinyl alcohol-based electrolytes are neither very stretchable nor compressible, which limits the realization of suitable supercapacitors.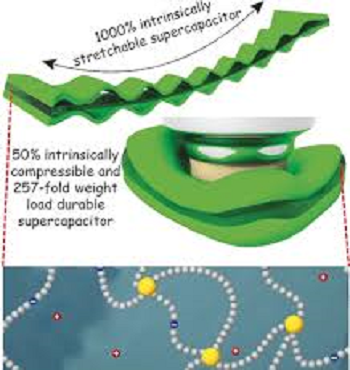 Image credit: Wiley
Chinese researchers have developed a new electrolyte that is intrinsically super-stretchable and compressible. Vinyl hybrid silica nanoparticle cross-linkers were introduced into polyacrylamide hydrogel backbones to promote dynamic cross-linking of the polymer networks. The cross-linkers serve as stress buffers to dissipate energy when strain is applied, providing a solution to the intrinsically low stretchability and compressibility shortcomings of conventional supercapacitors.
The newly developed supercapacitor and electrolyte can be stretched up to an unprecedented 1,000 percent strain with enhanced performance, and compressed to 50 percent strain with good retention of the initial performance.
To assemble a working supercapacitor with this polyelectrolyte, two identical carbon nanotube composite paper electrodes were directly paved on each side of the pre-stretched polyelectrolyte film. Upon release, a wavy, accordion-like structure developed, which enhanced electrochemical performance with increasing strain.
Researchers from City University of Hong Kong, Tsinghua University (Beijing, China), Shenzhen University (Shenzhen, China) and Jiangxi Normal University (Nanchang, China) participated in this study.